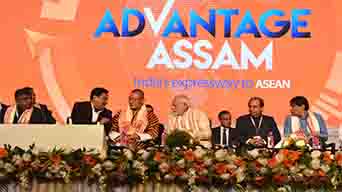 Prime Minister Narendra Modi on Saturday said that India's growth story will get speed only when there is all round development of Northeast and its people.
Speaking at the Advantage Assam-Global Investors Summit in Guwahati Modi said, "Assam is ranked first among the North Eastern States in the Ease of Doing Business report. With present leadership of the state government, Assam is going to further improve its current position to emerge as one of the most sought after states for investment".
The state has identified a number of focus sectors, including agriculture and food processing, organic cultivation and bamboo, handloom, textile and handicrafts, inland water transport, port township and river front development and logistics.
"We are restructuring the 'National Bamboo mission' with the amount of Rs 1300 crore. This will benefit people of North East, especially the farmers of this region," Modi added.
The 'Advantage Assam: Global Investors Summit 2018', inaugurated by the PM, aims at highlighting Assam's geostrategic advantages and core competencies in different sectors along with the policy initiatives taken by the state government.
Modi said the tagline of the meet – `Advantage Assam: India`s expressway to ASEAN` – is very appropriate and not just a statement but it is a "comprehensive vision".
Apart from the prime minister, several Union ministers including Nitin Gadkari, Suresh Prabhu, Ravi Shankar Prasad, Smriti Irani, Dharmendra Pradhan, Jitendra Singh, Kiren Rijiju and Industrialists like Mukesh Ambani and Ratan Tata are also to attending the summit.
Subscribe To Our Newsletter