TOKYO, Japan
Toshiba Electronic Devices & Storage Corporation today announced the launch of "DF2SxxP2 series," a new series of TVS diodes that protect USB power lines and power supply connectors used in mobile devices. Commercial shipments start today, and each of the six products in the series will be rolled out in turn.
Application of Toshiba's original Zener diode process to the DF2SxxP2 series has lowered dynamic resistance to 80% that of current products[1], securing instant absorption of electrostatic discharge (ESD) and noise. The diodes also realize a high peak pulse current rating about 32 times[1][2] larger than that of current products, which contributes to system reliability, while keeping electrostatic discharge unchanged at 30kV.
The new diodes protect the power lines of smartphones and tablets by suppressing malfunctions and damage from ESD, noise from induced lightning that enters via the power cord and signal cable, and transient voltage at the time of turning equipment on or off. They can also be used to protect the USB Type-C™ charging lines (VBUS = 5V to 20V) that will be widely used in the future.
Applications
Power supply connectors for mobile devices, such as smartphones, tablets, laptop PCs and portable battery packs.
Equipment with a USB connector, such as projectors, printers, digital still cameras, point-of-sale terminals, testers and LCD displays.
features
Low dynamic resistance
High peak pulse current
Support for three power supply line voltages: 5V, 12V and 20V lines
Two package types:
Small and thin SOD-963 package [CST2C, 1.6×0.8mm, t=0.48mm (typ.)]
Standard SOD-323 package [USC, 2.5×1.25mm, t=0.9mm (typ.)]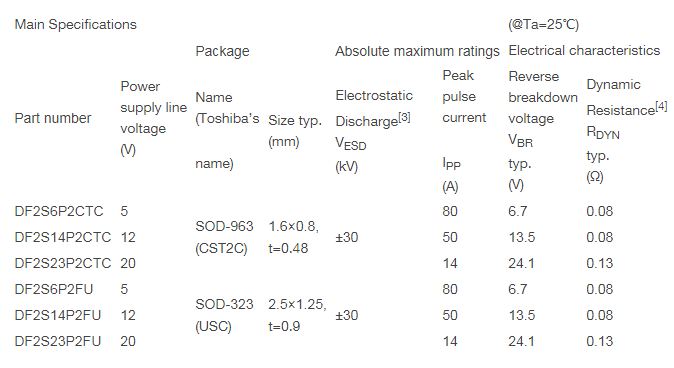 Notes:
[1] Compared with the current 5V line product, "DF2S6.8ASL"
[2] Compared with the current 5V line product. The peak pulse current rating differs depending on the voltage class.
[3] @IEC61000-4-2 (contact)
[4] @TLP parameter: ZO=50 Ω, tp=100 ns, tr=300 ps, averaging window t1=30 ns to t2=60 ns
*USB Type-C is a trademark of USB Implementers Forum, Inc.
Follow the link below for more on Toshiba's TVS diodes line-up.
https://toshiba.semicon-storage.com/ap-en/product/diode/esd-protection-diode.html
Customer Inquiries:
Small Signal Device Sales & Marketing Department
Tel: +81-3-3457-3411
https://toshiba.semicon-storage.com/ap-en/contact.html
*Information in this document, including product prices and specifications, content of services and contact information, is current on the date of the announcement but is subject to change without prior notice.
About Toshiba Electronic Devices & Storage Corporation
Toshiba Electronic Devices & Storage Corporation (TDSC) combines the vigor of a new company with the wisdom of experience. Since being spun off from Toshiba Corporation in July 2017, we have taken our place among the leading general devices companies, and offer our customers and business partners outstanding solutions in discrete semiconductors, system LSIs and HDD.
Our 19,000 employees around the world share a determination to maximize the value of our products, and emphasize close collaboration with customers to promote co-creation of value and new markets. We look forward to building on annual sales now surpassing 700-billion yen (US$6 billion) and to contributing to a better future for people everywhere.
Subscribe To Our Newsletter