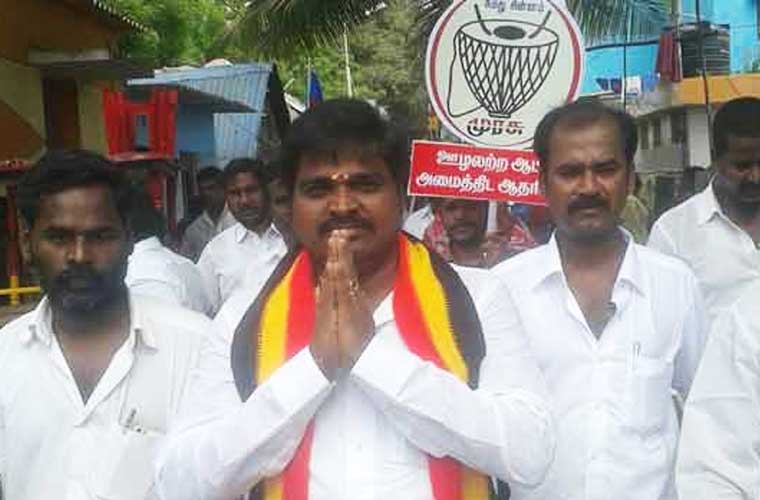 Chennai: Seven of the 62 candidates in the fray for the RK Nagar bye-election on April 12 have declared they are criminal cases against them. There is no dearth of crorepatis with nine of them in the list.
The details have been brought out by the Association for Democratic Reforms (ADR) and the Arappor Iyakkam, part of the Tamil Nadu Election Watch. Five of the candidates have not filed their affidavits clearly.
Of the 57 candidates whose affidavits are in order, seven have declared that there are criminal cases against them In the case of DMDK candidate P Mathivanan, there is an attempt to murder case. But Independent candidate N Gunasekar has an attempt to murder case, one of voluntarily causing hurt by dangerous attempts or means and another related to extortion.
The candidates of the AIADMK (Amma), AIADMK (Puratchi Thalaivi Amma), Naam Tamilar Katchi, Kamarajar Deseeya Congress and five Independents are in the crorepati list.
The average asset per candidate is Rs 96.84 lakh and Independents have an average of Rs 43 lakh. Those on the top of the list are K Kalaikottuthayam of Naam Tamilar Katchi (Rs 14.14 crore), TTV Dinakaran of AIADMK (Amma) (Rs 10. 78 crore), E Madhusudhanan of AIADMK (Puratchi Thalaivi Amma) (Rs 5.38 crore).
Besides assets Dinakaran has also declared liabilities of Rs 5.04 crore, making him on top of those with liabilities.
Dinakaran has another feature of topping the list of candidates with income. During 2015-16 it was Rs 73 lakh (including that of his spouse and dependent). But, self-income shown by candidate is just Rs 2.2 lakh. Gangai Amaran of BJP has an income of Rs 17 lakh and Independent Michael Raj M A Rs 14 lakh.
Incidentally, 70 per cent of the candidates have not declared Income Tax details and 28 per cent have not declared their PAN details.
On the education front, 37 candidates have between Class V to Calss XII pass and the rest are graduates or above.
An equal number of candidates are in the 25-50 age group and the rest in the group up to 80. Only six of the candidates are women and none is supported by any political party.
Subscribe To Our Newsletter