The 'Happy to Bleed' has suddenly found interpretations in the backdrop of the historical verdict of the Supreme Court allowing women of all ages to worship at the hill shrine of Sabarimala in Kerala.
Traditionally, females below 10 years and above 50 were allowed to the shrine. But, the Supreme Court has broken this 'menstrual discrimination' which has ensured that equality before law was applicable when it came to religion and related practices.
But unfortunately, a section has been using this verdict to fuel religious schism in society and propagating outrageous messages through social media.
One such post on Facebook is where art has been (mis)used to fan hatred, insulting and hurting religious sentiments and can easily flare up communal violence.
Freedom of expression is at times misinterpreted and comes into open conflict with religious sentiments and seen as licence to spread communal hatred. One person Selvan Tamil Selvan from Thiruninravur allegedly posted provocative art which has hurt religious sentiments of people and can be interpreted as a way to promote enmity and hatred.
Majorly people have found this art disrespectful. Deepa Sam feels, "It's disgraceful and completely unnecessary." Suraj Jumaar says, "I'm not a follower. But this is crass, obviously done to antagonize believers."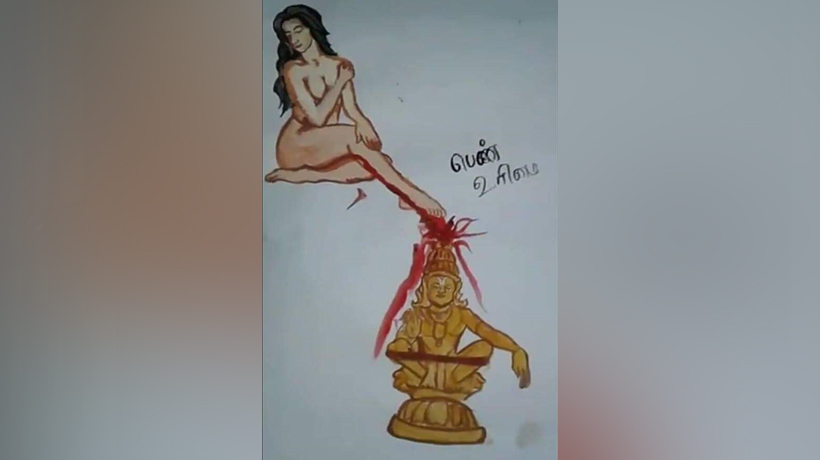 Nisha Pam Bakshani commented, "Seriously.. I want to know what action is taken against such art. This misguided fool thinks he is being cool and an 'anti establishment' pathetic clown."
Her opinion raises a very vital question whether the government will treat this as merely a work of art or a deliberate and malicious act, intending to antagonize believers by insulting their religion or beliefs and faith. It remains to be seen if the government can mete out the right punishment by putting him behind the bars or imposing a fine. This is to preserve public order, decency and morality and also ensure that he does not become a model for others.
The court verdict allows women to go to the shrine but is not mandatory that all believers go there. It is a personal decision for a woman to go or not, different from the situation before the verdict. But using art in a regressive manner against a progressive verdict should not be allowed, say a cross-section of people The Covai Post spoke to. They said, "Let us not be repressive, intolerant and question other's belief system by hate speech, provocative art because it could have dangerous repercussions."
President of Hindu Makkal Katchi Arjun Sampath told The Covai Post that the supposed "art" was perverse and intended to create communal unrest. He said that his outfit has registered a complaint with the police today adding that he would impress upon the Government to take stringent action against such people who stoke the religious sentiments of Hindus.
Subscribe To Our Newsletter