The printing technology department of Avinashilingam University seems to be full of surprises, going by what teachers and students have to say.
"Yes, not many would choose printing technology right away. They would come to our department because they had no other option. But by the end of four years, they feel confident and realise they have an assured income source," says department head Prof Dr TKS Lakshmi Priya.
The student project works displayed bear testimony to what Lakshmi says.
There is a manual die-cutting machine, for which the department has filed a patent. This is totally different and is targeted for Micro, Small and Medium Enterprises (MSME).
It is not just this machine, but most other products are designed to be manually operable table-top machines and do not require electricity. They are energy-conserving eco-friendly ones.
"Ours being a women's university and given our societal atmosphere, we cannot assure that all our students will be able to go to work every day. They may have to stay at home. During such times, these table-top manual machines will come handy. The printing industry, like many others, uses large gigantic machines. This means that you can manufacture only in tons not in dozens. So these machineries will help one to meet small demands. It will be a kickstart for their entrepreneurial life," said Lakshmi.
The four-colour screen printing machine prototype, which is used to print colour onto fabrics and papers, is another little handy product. The department has not filed a patent for this machine as it there need to be some more alterations.
The only electricity-run machine is the semi-automatic gluing one. "Our students were doing internship with a company, where they developed this machine. This can be used to gum labels in a small scale packaging unit," she said.
The department has also designed a multi-purpose packaging box for which the patent application has been filed.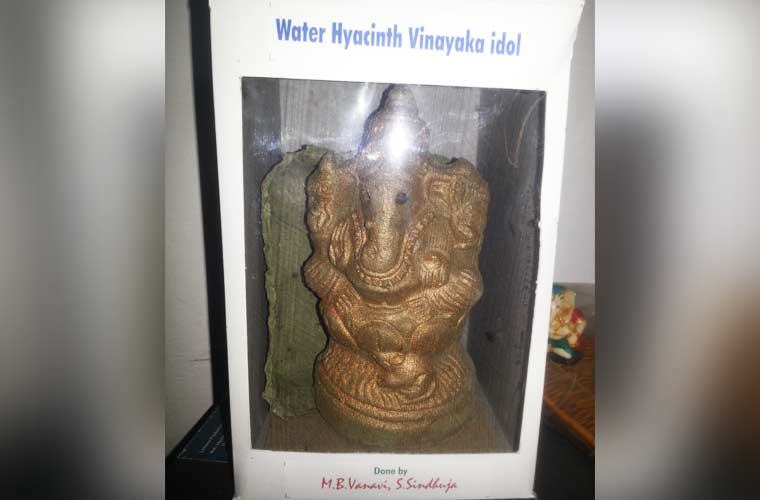 A Vinayaka idol made with the pulp of water hyacinth, labels with augmented reality technology, recycled papers in different GSMs, a creasing machine are among the few big surprises. There is a 3-d printed miniature stair case, a finger and an ear.
Subscribe To Our Newsletter