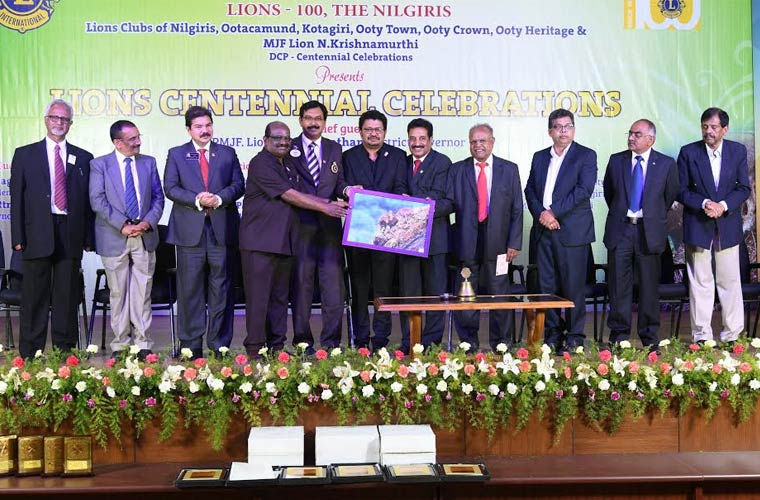 Udhagamandalam: With a call to save the Nilgiris from environmental degradation and safe guard values like respect and love for one another the centenary of the Lions Clubs International was celebrated under the aegis of the Lions Clubs of the Nilgiris,Ootacamund,Kotagiri,Ooty Town,Ooty Crown and Ooty Heritage at Kotagiri on Sunday.Expressing serious concern over the growing threat to the environment of the Nilgiris from various directions participants underscored the need for urgent steps to check the trend.
Adverting to the role of the Nilgiris in maintaining the ecological health of the districts surrounding it,they pointed out that it was the 'over head tank' of the state.
The Chief Guest A.Ranganathan,Governor,Lions District 324 B1 urged the participants to take a pledge to protect the Nilgiris.
Industrialist M.Bhojarajan lamented that with haphazard development taking its toll the Nilgiris was now a far cry from what it was a few decades ago.
The Founder of Saint Jude's Public School P.P.Dhanarajan who received a special award for having rendered yeoman service to the field of education regretted that posterity would be inheriting a disturbed world where hate and intolerance were the order of the day.He exhorted those present to propagate love and compassion.
Among those who also spoke was Lions District Chairperson, Centennial celebrations, N.Krishnamurthi.
The release of a book and distribution of awards to doctors who had completed fifty years of service and those who had excelled in their respective professions marked the occasion.
Subscribe To Our Newsletter