Bengaluru: Migration is a global phenomenon. Globally, migration is associated with aspiration – the attempt by people to survive and prosper, but in India, it is for a different reason.
According to the recently released census data on migration, marriage is the biggest reason for migration in India. Of the total 45.36 crore migrants, 22.39 crore or 49 per cent people referred to marriage being the reason for their migration. Only 5.07 crore (11.17 per cent) of the migrants cited work and business as reasons for moving to a new place.
While the primary reason for women to migrate is marriage, census data reveals that work and education are the other reasons. "Society has warmed to the phenomena of women and girls leaving their hometowns for higher education and jobs," says Priyanka Mittal, a social worker, who has worked in this field.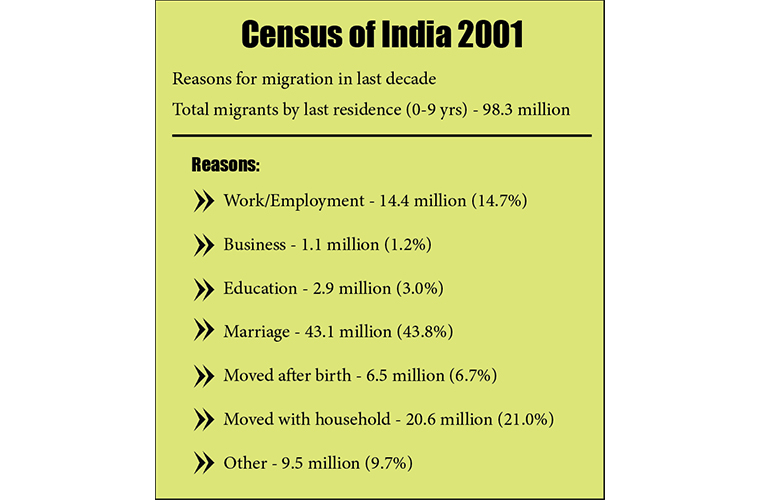 In another interesting revelation, migration to southern India has increased over the last decade. The southern states, especially Tamil Nadu and Kerala, have shown the highest increase in migrant population. Tamil Nadu's migrant population surged 98 per cent from 1.58 crore in 2001 to 3.13 crore in 2011. Migrants now constitute 43.4 per cent of the state's population, compared to 25.44 per cent in 2011.
Kerala's migrant population has grown by 77 per cent. Karnataka too, has shown a 50 per cent increase in its migrant population, from 1.66 crore to 2.50 crore.
"Better education is a reason for the local people to emigrate to greener pastures, leaving behind a space to be filled in by migrants," says Aditi Mukherjee, social scientist working on migration. "The southern states down south have more job opportunities with the IT parks."
"I consider myself a Bengali Bangalorian. You make your home where your work takes you," says Sayantan Das, IT professional.
Subscribe To Our Newsletter