Retail sector was the major demand driver, accounting for 39% of the volumes
Coimbatore : Knight Frank India, an international property consultancy, in their latest report – 'India Warehousing Market Report – 2023', cited that Coimbatore recorded warehousing transaction volume of 1.15 mn sq ft in FY 2023, a de-growth of 9% YoY compared with FY22. The drop in the transactions is majorly due to the reduction in space leased by 3PL and FMCG players. However, there was a sharp increase in warehouse leasing by retail and manufacturing players which has increased 200% and 114% YoY respectively.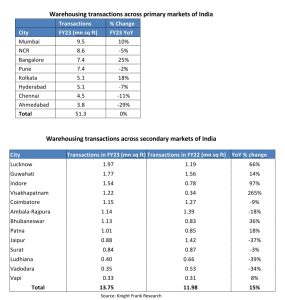 The demand for warehousing space among retail and manufacturing players has increased as a result of the growth of the organized retail sector and the industries that dominate Coimbatore, such as the traditional heavy pump manufacturing industries, textile factories, and metal casting industries. The retail sector accounted for 39% of all transaction activity followed by e-commerce and 3PL segments which accounted for 26% and 17% respectively of the overall transactions during FY23.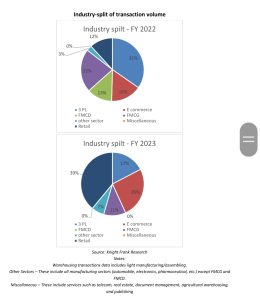 With respect to the cluster split of transactions, major transactions were witnessed in Pollachi + Palladam – Cochin Frontier Road cluster led by an increase in demand from the retail, e-commerce and 3PL industries. This cluster contributed 76% of the overall transactions during FY23. However, Avinashi cluster saw a rise in transactions as it contributed to 24% in FY23 as compared to 4% in FY22.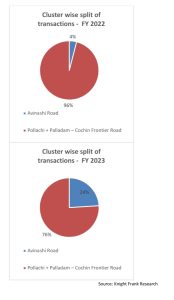 Coimbatore: Land Rate and Rents
Both land prices and rental rates remained fairly constant in FY23. Warehouse rents in Pollachi and Palladam – Cochin Frontier Road cluster was recorded in the range of INR 161 – 237 sq m/month for Grade A facilities.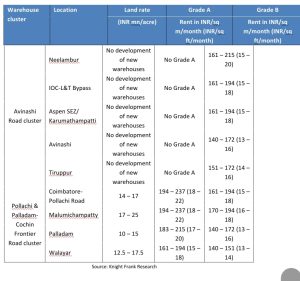 Subscribe To Our Newsletter