An attempt to make utility bill payments through the Coimbatore corporation portal failed and to make matters worse messages of security alert popped up on the screen.
One even said the site might be trying to `steal' some personal information and another said it might contain malware.
"The site is very vulnerable as the certification for the payment gateway has expired on October 20, nine days back. This means hackers can easily take over the site. The security certificate has become invalid. The corporation has to immediately renew the certificate and update the site", said Dr B Muthukumaran, a cyber expert.
"It will be very risky to pay on the site now because the payment gateway is not authorized at this point and the amount paid may not necessarily go to the corporation", he added.
Images of these posted online has created a stir in social media.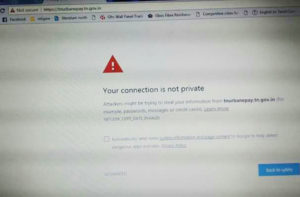 Licensed building surveyor K Kanagasundaram had this queer experience when he tried making payment of his water and property taxes online. "Besides trying to pay my water and property taxes, I as a surveyor tried to apply online for building permission. But messages popped up making it doubtful if I could proceed further," he says.
This had been the situation for quite some time now, he adds. "I did alert the officials but they haven't taken any action yet. One of the computer staff asked me to disable the browser security feature, but I did not want to take a risk," Kanagasundaram said.
Subscribe To Our Newsletter