#SPECIAL
Coimbatore, that has become vulnerable to polarisation on communal lines after the 1998 bomb blast, has provided a platform for major political parties to sink their differences and join hands under the umbrella, 'Coimbatore Makkal Medai.'
An initiative of the CPM, the Dravidian major DMK and other 'like-minded' political parties, including Congress, CPI, VCK and MDMK shared dais at the launch of the Makkal Medai held in the city on Monday.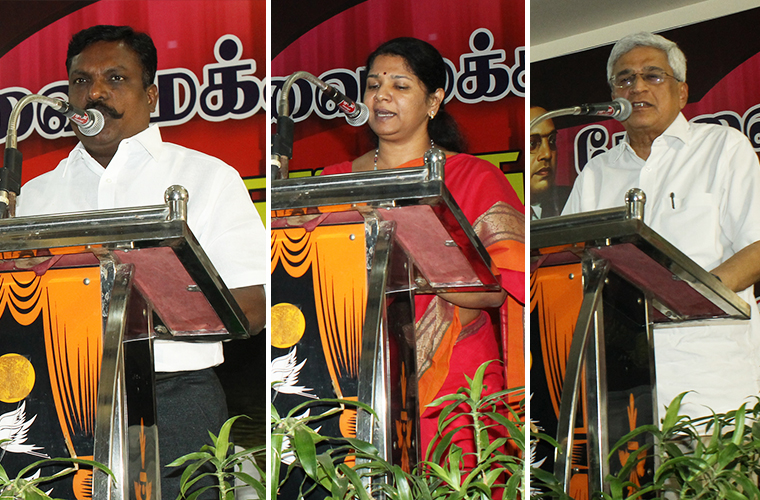 Political bigwigs such as CPM politburo member Prakash Karat, DMK's women's wing secretary Kanimozhi and VCK president Thol Thirumavalavan made it for the event, which was also seen as a stage for the possible political alliance in the near future, given the fluid political situation in the State.
"At the national level, as many as 18 parties have come together against the BJP and Hindutva forces. The same trend follows in the State too. Makkal Medai, floated to fight fundamentalism, can be seen as a prelude to the alliance (of all secular parties)," T K S Elangovan, DMK's press relations secretary, told The Covai Post.
Kanimozhi, however, plays it safe. "The Makkal Medai meet has nothing to do with elections. The parties that participated in the event may or may not go together. Nothing can be said at this point. There is still time for polls. We all came together for a common cause (to fight fundamentalism)," she told The Covai Post.
The Makkal Medai, in fact, is the coming together of parties with Leftist, Periyarist and Ambedkarist ideologies.
"The forum's main objective is to combat communal forces. Be it Islamic or Hindu extremism, it has to be isolated.
Coimbatore having turned into a hotbed for communal problems, particularly after 1998 when serial bomb blasts rocked the city, we want to make it safer. Our efforts are aimed at restoring peace and amicability," said P R Natarajan, a former MP and CPM leader, pointing out the recent murders of Hindu Munnani leader C Sasikumar and A Farooq, an atheist and a functionary of Dravidar Viduthalai Kazhagam.
Muslim outfits, though some of them are secular, were not invited to be part of it. "A few approached us, but we did not want to have any religious body in the forum at this stage," he said. This, he asserts, is a campaign to build peace among all communities for the city's development and asks not to give it a political colour.
The launch meeting, however, saw some speakers talking politics, especially about the current merger of the two factions of AIADMK and the BJP's role in facilitating it.
Subscribe To Our Newsletter