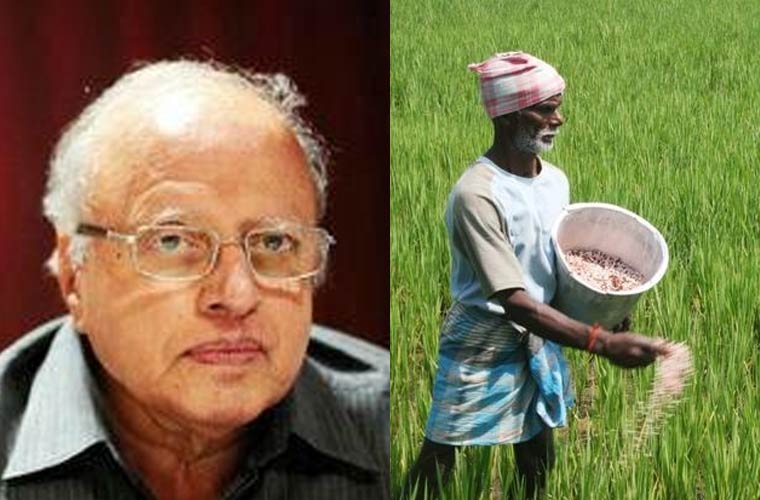 The only solution to tide over the crisis prevailing in the agriculture sector and prevent suicides by farmers is to implement the M.S. Swaminathan Commission Recommendations, Federation of Tamil Nadu Agriculturists Association (FTAA) said today.
"Why the Central Government, which has implemented the seventh Pay Commission, benefiting hardly two per cent of the population, is neglecting and hesitating to implement the recommendations, which would benefit of 60 per cent of the population, that is farmers," FTAA secretary, S. Nallasamy, questioned in a statement.
Both the Congress and BJP Governments are neglecting the farmers' interests and shedding crocodile tears. They have failed to implement the schemes benefiting agriculturists, he alleged.
"The implementation of commission recommendations is the only solution to uplift the farmers, instead of giving them freebies, subsidy, concession, compensation, loans and its waiver, insurance and Income tax exemption."
Nallasamy also wanted the State government to take action against those some 200 oil extractors in Tirupur and nearby areas, who adulterate the coconut oil by mixing white oil and imported palm oil.
Instead of increase in the price of copra, it was declining from Rs.100 to Rs.85, despite decreased production of coconut in the major growing States of Tamil Nadu, Kerala, Karnataka and Andhra Pradesh, besides Sri Lanka, which are facing acute shortage of water, he said.
The federation has decided to move Supreme Court against Kerala for constructing six check dams across Bhavani river, which originates from Nilgiris and return to Tamil Nadu after flowing 24 km in Kerala, he said.
Subscribe To Our Newsletter