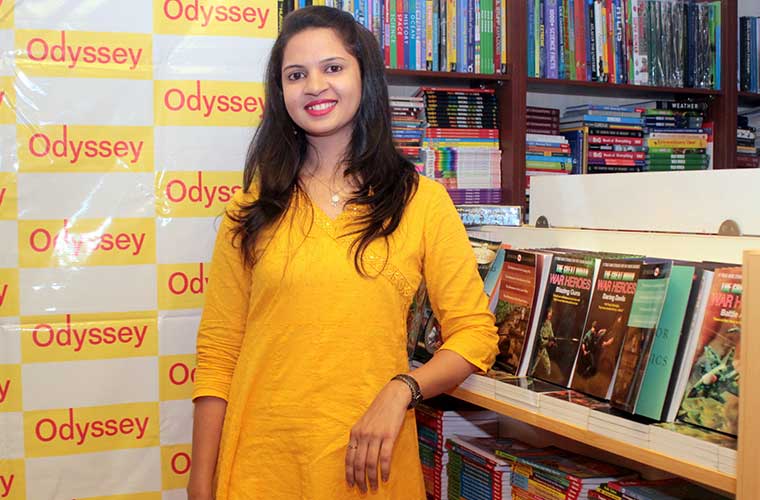 It literally took the literary world by surprise when 23-year-old Savi Sharma from Surat self-published her first novel, 'Everyone Has a Story'. Her work, written mostly in a café, was received with open hearts and sold over 1 lakh copies in the first 100 days. The success also vindicated her decision to quit CA against her parents' wish and take up writing full time. It was also encouragement enough for Savi to come up with a second novel, 'This is Not Your Story', to promote which she was in Coimbatore recently. In a tete-e-tete with The Covai Post, Savi, talks about Nirbhaya verdict, Indian writing in English, dreaming and writing.
TCP: There are many writers from engineering and professional streams these days. How do you see this?
Savi Sharma: There is an 80-year-old who decided to become a model. It all depends on when you find where you belong to and when you find your calling. Listen to your inner self and it will guide you. I got an opportunity to read 12 novels in 10 days and that was the turning point in my life. Then I realised that I am made to write stories and now I am a writer. My parents did not support my choice initially for I had to quit CA. Now they are supportive having seen my success.
TCP: More readers have started to read now. Is it a positive sign?
Savi Sharma: The best gift you can give a person is the gift of reading a book. It is good to see young people reading more now, and it is a positive sign for writers like me.
TCP: How is Indian writing in English in the current scenario?
Savi Sharma: Writing in English gives you a global platform. But again, it does not mean that people writing or speaking in Hindi or other regional languages are not educated. This attitude is wrong for we have to respect our regional languages. Having said that, we also have to agree that foreign languages like English do help in reaching people across states and countries.
TCP: We see some Indian writers resorting to using swear words in their books. What is your view on this?
Savi Sharma: I do not want to use such words in my books and I don't prefer reading authors who use swear words. It is wrong but I can't ask others to follow it. It depends on their mindset and we cannot blame it as well.
TCP: How do you see the Nirbhaya verdict?
Savi Sharma: The verdict has come a bit late, but it has come out good nonetheless. Hope justice is not delayed and is sure for every other rape victim. I welcome the verdict.
TCP: Recently three IPS officers from TN spoke against derogatory lyrics in cinema. What is your take on that?
Savi Sharma: Lyrics in cinema have been very negative so far and portray women badly in some cases. That is wrong. They claim that people like such lyrics, but that is not true. Art is an important form for spreading positive messages and not explicit content. Only positive content gives hope to people and negativity is just the other way around.
TCP: Many write about relationships and love but do not take up serious topics. How responsible is a writer in creating awareness about serious topics other than relationships?
Savi Sharma: That is exactly what I am trying to do with my writing by writing about things that have value in life. My books have more than just relationships. They talk about dreams. I am aiming to give my readers what I feel is correct. I don't want to force anything on the readers. I want to give them positivity. Responsibility is not a pressuring factor as well, it encourages me to grow more and do well.
TCP: Having self-published your book, what would you like to say to young writers?
Savi Sharma: There are many people who want to write. But they don't believe in their stories, or in their selves. Belief in one's self and dreams are first and foremost. Then you have to sit and write what will be of help to others. Take up good stories and start to write. I know people who have good stories but have not started writing fearing that they may not get a publisher. When you have a good story, why worry about publishing? These are entirely different things. "Just start writing" would be my advice.
TCP: You are known as a writer, a publisher, an inspiration to young readers now. What do you want to be known as?
Savi Sharma: Story Teller! Always a story teller! (There is that confident smile)
Subscribe To Our Newsletter