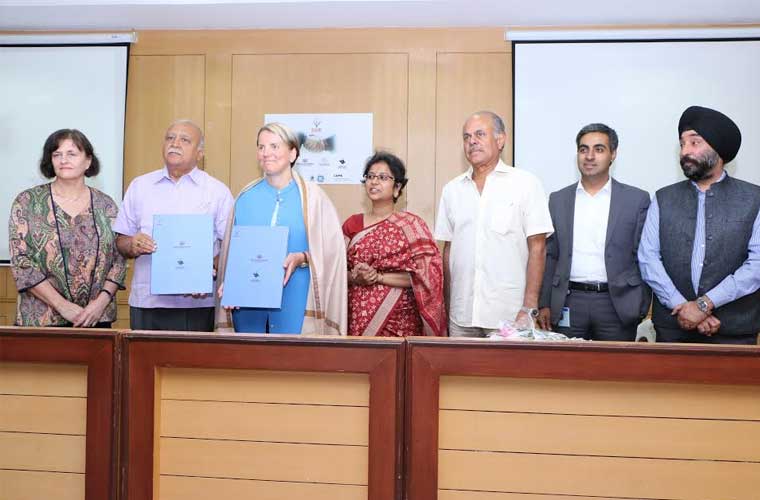 GE Healthcare, an American Pharmaceutical Company, on Tuesday signed a Memorandum of Understanding (MoU) with SNR Sons Trust, running Sri Ramakrishna Hospital here to offer training in various technical areas of healthcare.
The partnership would focus on bridging the skill gap in healthcare technical or operating staff.
According to Marut Setia, Head of Education and Professional Services, Africa India South Asia ASEAN, GE Healthcare Education Institute – the training wing of GE Healthcare – would set up an advanced healthcare simulation lab to design, develop and execute the courses. "Training and capacity building form an integral part, given that skilled human resources within the health sector are extremely crucial and in limited supply in India. The collaboration is aimed to provide training to healthcare professionals as well as students with a robust technology platform," he said.
Wipro GW Healthcare Chief Commercial Officer Mandeep Kumar said around 5.8 billion people do not have access to quality healthcare globally. "Our goal is to improve access to healthcare and skills are an important element of that", he said.
In the first phase, the lab would train the Biomedical Engineering students of Sri Ramakrishna Engineering College and make them 'industry-ready' professionals, the managing trustee of SNR Sons Trust, R. Vijayakumar said.
"Subsequently, the plan was to offer advanced skill training to various other healthcare professionals like doctors, nurses (working as well as students) and technicians from different regions", he said.
Subscribe To Our Newsletter