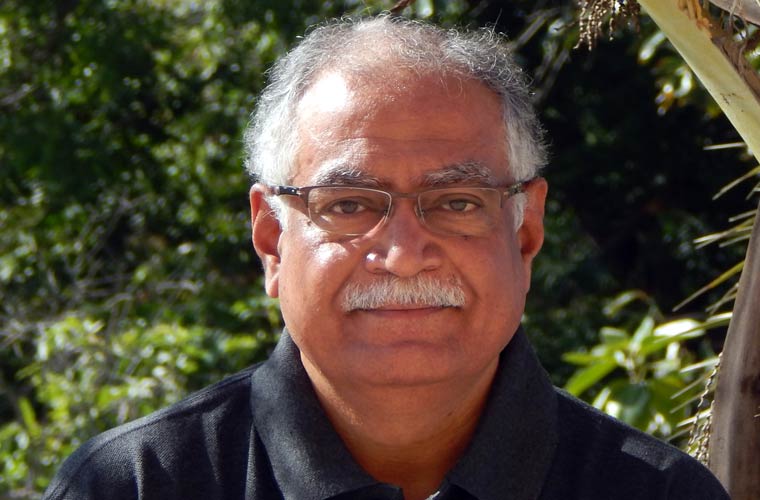 "I don't analyse the psychology of temptation in my novels, though I do make extensive use of it." This is how thriller novelist R.V. Raman inquisitively uses human greed, passion and scheming motivations of the corporate world in his novels. In his new white-collar crime thriller, 'Saboteur', he explores the e-commerce world caught in the wily conspiracies of fraud and murder. He has also dabbled in fantasy fiction, murder mystery short stories that send a chill up our spine. Covai Post catches up with the novelist to peel the layers of setting, structure and mystery that shrouds his thrillers. Here are excerpts from the interview.
Thriller novels are one of the beloved genres of many around the world. But, corporate thrillers are rare. Why did you choose such a setting?
The corporate world is what I know best. That has been my profession for more than three decades. Thus, I've had the opportunity to study a large number of companies across multiple sectors (banking, manufacturing, technology, etc.) across continents. This gave me a good understanding the weaknesses, temptations and motivations prevalent in the corporate world. It is a fertile ground for stories as it has every emotion one can think of – desire, greed, jealousy, love, loyalty, you name it! To add to this, it has the conflicts and emotions of galore, from petty one-upmanship to boardroom battles.
The tag line of your first book was, 'When the stakes are too high to let go…'and the one in your latest book is 'greed rules all'. How do you analyse the psychology of temptation and corporate greed in your books?
I don't analyse the psychology of temptation in my novels, but I do make extensive use of it. In the corporate world of banks and stock markets, we often find ourselves handling other people's vast quantities of money, sometimes even in trillions. If there is a discrepancy of a few crores, it is easily overlooked and very tempting to the weak-willed. Such a temptation can push them over the line, telling them that all their financial worries would vanish. But when they embark on such a journey, you can't stop with one fraud. There is no end to this greed.
You have written more than three books now. Do you want each book to stand on its own or are you trying to build a body of work with connections between each book?
The corporate thrillers are all stand-alones that sometimes share a common protagonist (i.e. the police inspector), but that is the extent of the linkage. Each book is a completely new white-collar crime set in a different industry sector with an entirely different cast of characters. However, the fantasy books I've written under the pseudonym of Kevan Dinn, are a series of four books that are set in an entirely new fantasy world.
Can you tell us a little bit about 'Shinmah', your fantasy fiction?
It is a story of a small group of men and women with uncommon mental prowess, who come out of self-imposed exile to battle an epic struggle against the sheer might of tyrants. It falls under the genre of fantasy fiction. It is set in a make-believe world, in 25 million BC, a time when India was still an island; a time before the Vedas, before Ramayana and Mahabharata. More information is available at https://shinmahs.wordpress.com.
What was the experience in your life that made you understand that language had the power to unveil many mysteries?
It wasn't a single experience, but the wide range of reading (both fiction and non-fiction) that made me realise that humans had two major tools at their disposal to unravel mysteries – language and mathematics. From Darwin's Origin of Species to Asimov's galactic empire; from Sherlock Holmes to Hercule Poirot; from Newton to Einstein, the power of language and mathematics was quite apparent.
Your lesser known short stories, Amavas and Gulshan Pandey are fascinating with simple yet gripping plots. How is the art of novel writing different from short story?
At this point, I am experimenting with the short story format, and find writing short stories a greater challenge than writing novels. With 300 pages, full-length novels offer space for elaboration and well-built plot and characters while short stories require brevity and punch.
Raman's current book 'Saboteur' can be found in Odyssey, Amazon and other book stores near you. The author can be contacted at www.rvraman.com
Subscribe To Our Newsletter