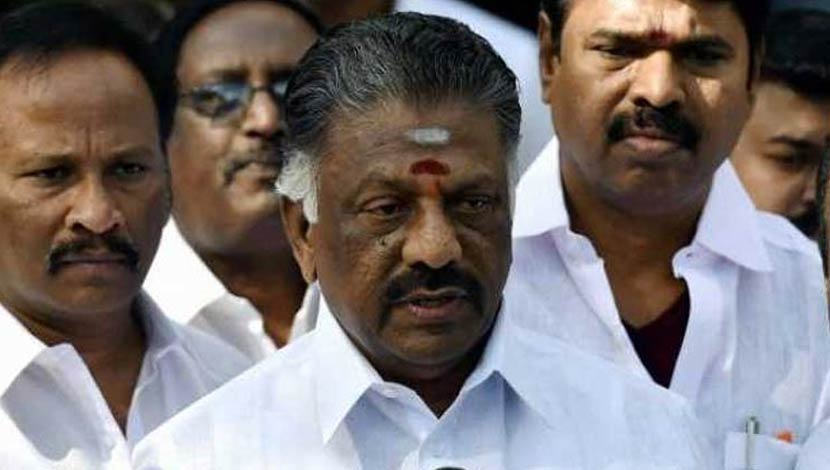 Chennai: Former Chief Minister O Panneerselvam on Wednesday reiterated that even though he was the chief minister when the then Chief Minister J Jayalalithaa was admitted to Apollo Hospital, he was not even allowed to see her.
"I never had a free hand when it came to Jayalalithaa, hospitalisation and treatment," OPS told media persons at Tuticorin airport on Wedneday. He was visiting the city to attend a marriage function.
Speaking to press persons at the airport, OPS said that given the cloak of secrecy maintained over the illness and treatment of Amma, there are doubts among the people as to what ailed her and also in what condition she was brought to the hospital.
All the time, the publicity cell of the AIADMK was given statements to make to the media and we were not in anyway involved, he said.
When asked by media persons that V Pughazhendi, AIADMK Bengaluru and a close supporter of AIADMK (Amma) deputy general secretary TTV Dinakaran, had declared that they would release video of Amma in hospital, senior OPS camp leader KP Munuswamy said that they did not have anything to say to that. "We need not comment on those matters," he said.
Panneerselvam maintained that people entertain serious doubts on the illness of Amma and how she was treated. The people have a right to know, which is why OPS said he was announced a probe as the chief minister, which got derailed after he had to resign.
"Now our demand is for a CBI inquiry into the death of Jayalalithaa," OPS said, which was essential if any merger talks were to be held.
Besides, the party must also formally expel VK Sasikala and Dinakaran from the party and also ensure that no one in her family gets into positions of power in office or government, another senior OPS camp leader said.
Subscribe To Our Newsletter