The former Supreme Court judge has managed to locate a lady singer from Mysore, who is willing to partner him for the duet "Muthukalo kangal from the movie Nenjirukkum Varai, a Shivaji Ganeshan starrer. For the present, it is skype practice of the number till he perfects the song and renders it at a public function on the Marina beach.
Retired former Supreme Court judge Markandeya Katju now wants to exercise his vocal chords and showcase his musical prowess.
And for this he wants a lady singer to accompany him in a duet – his most favorite compositions from the movie Nenjirukkum Varai that was set to music by legendary MS Viswanathan.
In his FB post, Katju has invited any Tamil woman who can accompany him in the song — "Muthukalo Kangal" from the movie" Nenjirukkum Varai", which had a start cast that boasted the presence of Shivaji Ganesan, KR Vijaya and Muthuraman.
"As long as we have a heart" the movie roughly translates to, is a 1967 Indian Tamil-language film directed and produced by C. V. Sridhar. Based on the trial and tribulations of a group of men searching for job, the film had its musical score done by Viswanathan.
Justice Katju mentions in his Facebook post that he used to sing the song many times during his days as a student at Annamalai University in 1967-68. "If a Tamil lady is ready to accompany me in a duet, I promise to sing the favourite Tamil song of mine, which I used to sing in Annamalai University in 1967-68 at Marina Beach, the next time I am in Chennai," Justice Katju said in his invite to a female singer.
Volunteers may send me email on mark_katju@yahoo.co.in
"I will then send my skype id, and we can practise on skype, before giving the public performance.
I can sing fairly well. I learnt classical music for 3 years in Prayag Sangeet Samiti, Allahabad in the 1960s," Justice Katju said giving his background in music, to help applicants gain confidence in his own musical muscle.
For this, Suhasini MP, a Project Assistant at the Centre for Human Genetics who lives in Mysore (as per her FB profile) has already put in her application expressing her intent to sing along with Justice Katju. Now, it remains to be seen if Katju finds her singing acceptable when he does a skype practice session with her.
Justice Katju had responded to Suhasini that he would send her his skype id so that they can practice singing the duet.
Ravi Uday Shankar, one of his followers on FB has also come forward and would provide accompaniments.
There is another post asking him if he had the age to sing a duet. Another challenged him to find a pearl-eyed girl as the first line of the song suggested. Another FB query had Chiranj Rajendran wanting to know why he had not selected a Jayalalithaa song for a duet.
Justice Katju does not mention that his visit to Marina would coincide with protests in support of the protesting farmers. He has however initiated a petition on Wednesday – in change.org based on an unanimous resolution passed on March 25 in Sacramento, Capital of California, USA. The resolution sought support for farmers during their troubled times.
Katju had served as the Chief Justice, Madras High Court from November 2004 to October 2005.
Watch the original song here : https://www.youtube.com/watch?v=ED0bwUuSQMg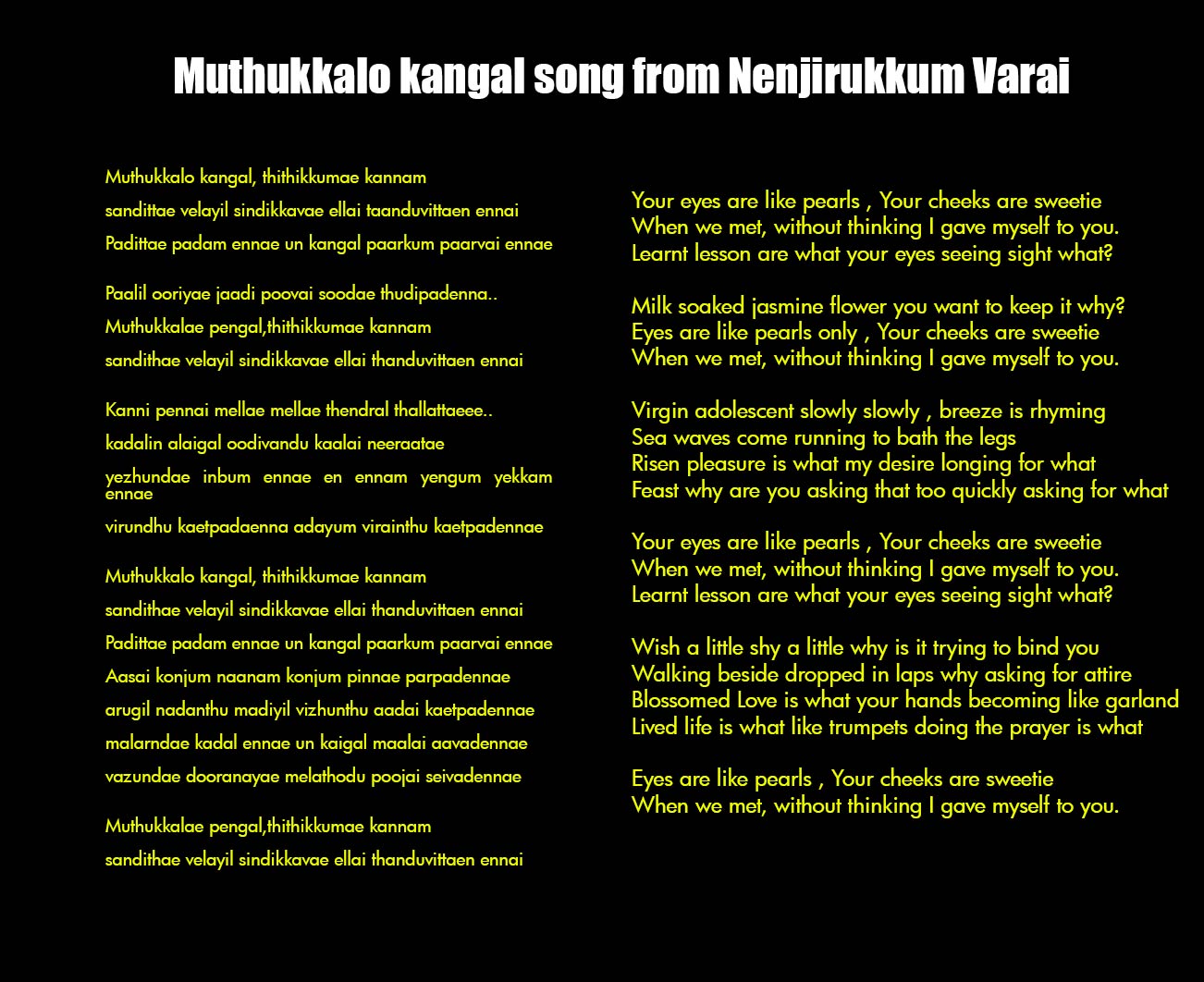 For lyrics and meaning of the song click the link here : http://www.tamilspider.com/resources/4512-Song-Lyrics-Tamil-Muthukkalo-kangal-from.aspx
Katju, for reasons unknown, appears to have removed the post in a few hours after he had put it up on Facebook.
Subscribe To Our Newsletter