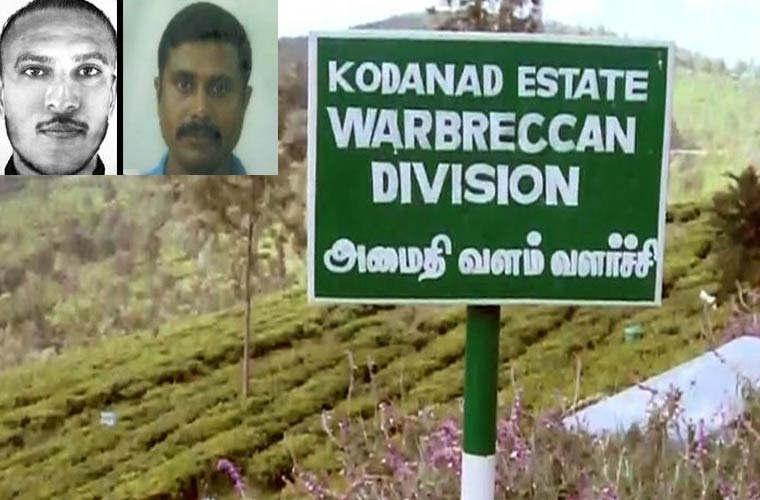 Chennai: It is straight out of a Tollywood crime thriller.
A big sprawling estate owned by the rich and powerful. A burglary at midnight. Guard murdered and thieves escape with valuables.
The midnight break in at Jayalalithaa's 900 acres Kodanad estate on Monday is turning into a crime thriller with a scary twist and deepening mystery. Two of the suspects who made away with valuables from the estate were involved in ghastly road accidents.
Former driver of Jayalalithaa S Kanagaraj died on Friday night when the two wheeler he was driving was knocked down by a sand lorry near Attur in Salem. A few hours later, another of his accomplices, Sayan was seriously injured when the car he was driving met with an accident, again with a sand lorry, in Palakkad on Saturday early morning. His wife and daughter travelling with him died in the accident.
Sayan has been admitted to a hospital in Coimbatore where a magistrate has already recorded his statement.
According to police, the car in which Sayan and his family were travelling was the same stolen one used in the burglary on April 25.
The chain of events, set off by the midnight murder and robbery at the Jayalalithaa's estate, has rocked Tamil Nadu, with some political leaders suspecting that this was not just a case of burglary and theft. It is much deeper the political leaders suspect, pointing to the alleged involvement of some ruling party members, given the fact that Jayalalithaa was the owner of properties worth hundreds of crores of Rupees and so was her companion VK Sasikala.
It is suspected that property documents could be among the valuables stolen from the estate, although the police has not formally been given a list of missing items by the estate managers.
According to police interrogation of 8 suspects, picked up from Thrissur in Kerala, indicated that the gang may have taken away some property documents. The gang is also believed to have been after huge amount of cash stored in the estate.
Senior BJP leader H Raja told media persons that "in the whole episode the poor security guard died. The government should give a compensation of Rs 25 lakh to the members of the bereaved family. The whole thing must be investigated thoroughly as it indicates to something much bigger. "
A security guard Om Bahadur was killed and another Krishan Bahadur was injured in the Kodanad incident, which occurred early on Monday morning.
Former driver of Jayalalithaa, Kanagaraj, knew the topography of the area as also was familiar with the insides of the estate and Jayalalithaa's quarters, having spent some ten years in her service. Jayalalithaa had removed the driver a couple of years ago when she found him misusing her name.
Subscribe To Our Newsletter