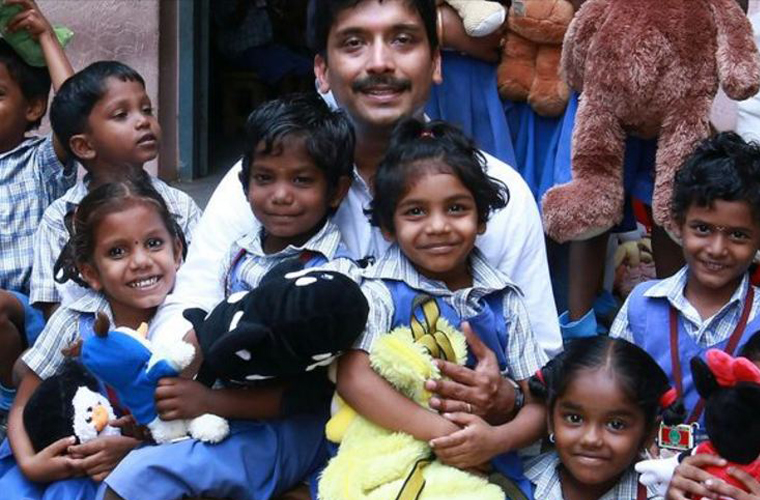 When a girl approached Sujith Kumar, founder of Maatram Foundation, pleading him to educate her so that she gets a better job and escape the jaws of poverty, he was shocked. "After talking to her, I came to know that she was working as a domestic help in four houses to support her education and of her two siblings.
Her father is an alcoholic and her mother is no more," Sujith Kumar told Covai Post.
"The girl had scored 1152 out of 1200 in her Plus Two exams, but did not have enough money to pay her fee. I sought the help of an engineering college principal, who immediately promised a seat for the girl," he added.
The incident left a deep scar in him and thus was born Maatram Foundation, an NGO that has been helping poor and unprivileged children to get educated. Till now 327 students have been enrolled and 20 have already come out of engineering colleges with flying colours. In EduAssist, the flagship programme of Maatram has seen the desired change and it has some Engineering and Arts colleges as institutional partners.
"In Maatram , we focus on helping orphans, girl children, children of single parents. The identity of the beneficiary is a close guarded secret so that they (beneficiaries) don't feel the burden," Sujith Kumar said.
"From identifying the beneficiaries and to admitting them in colleges everything is looked after by 200 volunteers.
EduAssist is a complete package, where the tuition fee, uniform, hostel stay are entirely covered by the partner institutions and we sometimes help them out with exam fee. Social media platforms are used to reach out to every corner of Tamil Nadu."
Maatram has other programmes such as 'Santa kids', where school children are encouraged to cultivate the habit of gifting. Under this programme a wish of an underprivileged kid for something like a cricket bat or comics is fulfilled by another kid studying in a different school. The children are made to play each other's Santa under this gift-giving programme, which is organised during every Christmas.
Build a Library scheme, another initiative by Maatram is aimed at establishing library facilities in schools.
Maatram Foundation has recently established a library at a Government Middle school at Thoraipakkam in Chennai.
Subscribe To Our Newsletter