Tamil Nadu Agricultural Production Commissioner and Principal Secretary Gagandeep Singh Bedi today mooted the idea of setting up of micro level processing units at farm level for value addition.
Delivering the key note address at the 83rd Scientific Workers Conference at the Tamil Nadu Agricultural University (TNAU) here, Bedi emphasised the need to establish farmer friendly micro level processing units for value addition of their produce.
Urging the establishment of mentor agriculture centres in each district to address the issues of crop cultivation, Bedi said that the extension officials, with their timely intervention, can bring happiness in farmers' lives.
In his address, TNAU Vice-Chancellor Dr. K. Ramasamy underlined the research orientation of the University in addressing farmers issues.
"There was the need for strong linkage between extension officials and scientists in the uplift of farmers," he said.
The conference attended by State level extension officials of Agriculture, Horticulture, Marketing, Seed Certification, Agricultural
Engineering, Sericulture, Forestry Departments and scientists from TNAU discussed various issues related to agricultural crops and technologies.
Participants sought interventions on issues like soil health card, varietal development for oil seeds, pepper, horse gram, ratoon paddy, off season moringa, remote sensing based crop assessment, a TNAU release said.
It was suggested to take up hybrid vegetable seed production at states horticulture farms with technical support of TNAU.
Dr. Maheswaran, TNAU Director of Research said rice variety Co51 has been recognised as a national variety and is popular in 13 States of India.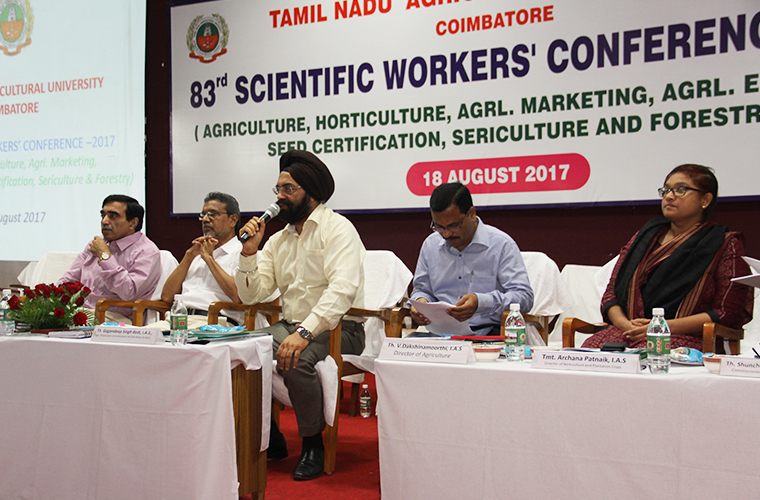 Director of Agriculture V. Dakshinamoorthi, Commissioner of Horticulture and Plantation Crops Archana Patnaik, Commissioner of Sugar Mahesh Kasirajan and Chief Conservator of Forests and Additional Director, Coimbatore K.K. Kaushal and several others participated.
Subscribe To Our Newsletter