Coimbatore : Pricol Limited. (BSE: 540293 & NSE: PRICOLLTD), one of India's leading auto component manufacturers, announces its results for the second quarter of financial year 2023-24.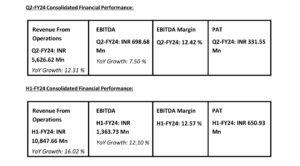 Q2-FY24 Business Highlights:
• Award received from Mitsubishi Heavy Industries Group for "Best Support" at their Supplier Conference. Also, they awarded us the status of "Self-Certified Supplier" for the year FY24.
• Award received under the category "Supplier Reliability Cluster Program" from TVS Motors.
• Pricol has made key investments in Surface-mount technology (SMT) for printed circuit board (PCB) Assembly Line and Disc Brake assembly lines.
Management Comments:
Commenting on the performance of the company, Mr. Vikram Mohan, Managing Director said:
"Our strategic approach and unwavered support from all quarters of the company have helped us deliver the set of good numbers in Q2 and we expect the trend to only move upwards in the upcoming quarter. We continue to make key investments to enhance our manufacturing capabilities and solution offerings. Multiple awards from various platforms continue to strengthen the trust of our customers in the vision of our company. We are confident of delivering increased value for our stakeholders and continue to focus on ending the financial year on a new high."
Financial Statements:
Results for the quarter/half Year ended September 30, 2023, prepared under Ind AS, along with segment results, are available in the Investor Relations section of our website https://www.pricol.com/.
Quarterly Conference Call:
The earnings conference call will be held on Thursday, November 9, 2023 at 04:00 PM (IST) to discuss the Financial Results and performance of the company for the quarter ended September 30, 2023.
The earnings conference call will be accessible from all networks and countries through universal access dial-ins +91 22 6280 1341 / +91 22 7115 8242 also accessible at:
https://bit.ly/pricolconcall
Further, the analyst(s)/institutional investor(s) presentation will be submitted to Stock Exchanges and shall also be hosted on the Company's website at https://www.pricol.com/.
Subscribe To Our Newsletter