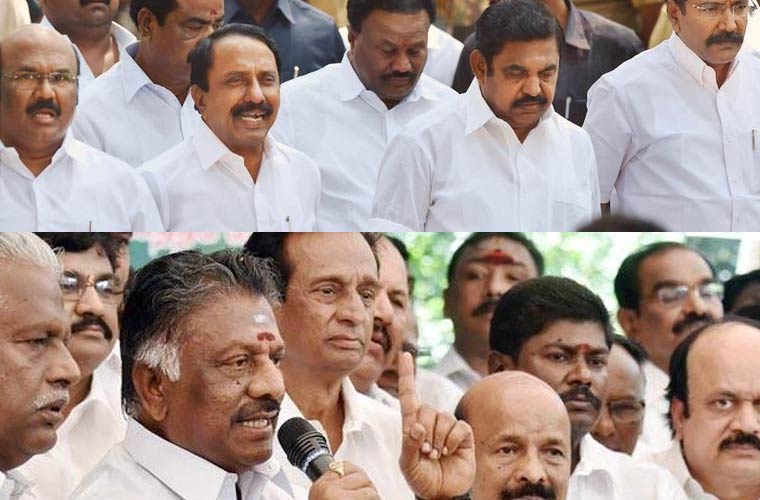 Chennai: Ruling faction of AIADMK continues to be under the Mannargudi mafia grip if the O Panneerselvam camp is to be believed. Which is why, the ruling faction of the party ignored the two basic preconditions for merger talks as imposed by the OPS camp – expulsion of Sasikala and her family from the party and ordering a probe into Jayalalithaa's death.
After some hectic informal talks between the two sides, the EPS and OPS camps have drifted apart with merger talks on the verge of collapse. The two sides are going in opposite directions – OPS launching his mass contact programme from May 5 and Chief Minister Edapaddi Palaniswami declaring that he had run out of patience with the OPS camp, which he alleged was putting up some or the other condition to stall talks.
While OPS and his camp insists that the two demands were non-negotiable, the chief minister and his team was simply not prepared to listen to anything against Sasikala, Dinakaran or other family members.
Ample proof of the influence the family had on AIADMK (Amma) faction was evident with the presence of several ministers at the death rituals of the nephew of Sasikala who died recently. Almost top ministers were among those marking their attendance and seen together with Sasikala's husband Natarajan.
Chief Minister Palaniswami declared that "we have full support of 123 MLAs, most of the MPs and all the office bearers of the party, and it is a running government. If they do not want to come for talks then so be it." Addressing party workers at a function recently, the chief minister reiterated that the blame for stalling of merger talks was entirely that of the OPS camp, which was talking in different tongues.
It seems as if they don't want merger at all, said a senior leader of the OPS camp.
Finance minister D Jayakumar, only reinforced this line saying that "we are always ready for talks, if and when OPS group wants. They are only delaying and we don't know why."
At a time when merger talks got relegated into the background, OPS has decided to go on his mass contact programme, to show his strength and mass pull that he has gained ever since he rebelled against Sasikala in February.
Also, the mass contact programme will be to prepare the faction for local body elections that are to be held in the near future as per a high court ruling.
Subscribe To Our Newsletter