Thirteen young biking enthusiasts, between 12 and 16 years of age, are selected for the Red Bull Road to Rookies Cup 2017.
The youngsters, majority of them hailing from Aizawl in Mizoram were selected after competing in the Riders Selection Programme of four rounds – Meco Kartopia in Bengaluru (June 4), Airstrip in Aizawl (June 10), Rayo Racing's track in Pune (June 18) and World of Wonders in Greater Noida (June 25).
Red Bull Road to Rookies Cup not only defines a new category in the sport in India but also gives the best motorcycle racer in the country a chance to be a part of the internationally acclaimed Red Bull MotoGP Rookies Cup 2017.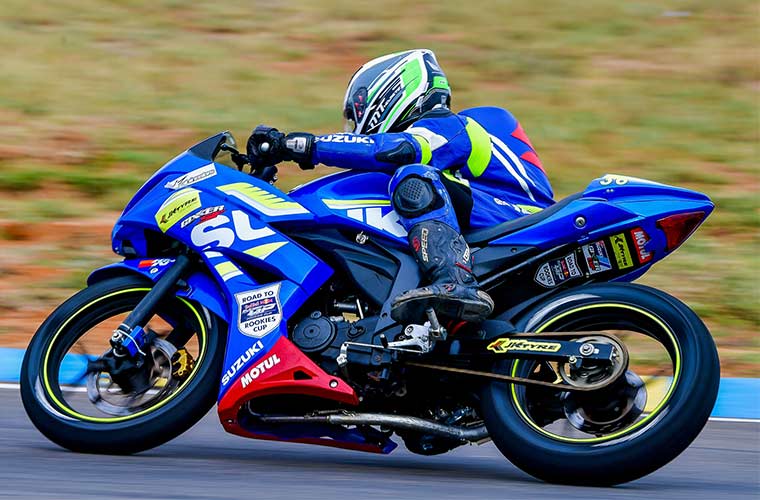 Those selected for the second edition of Red Bull Road to Rookies Cup are Prajwal Vishwanath of Bengaluru, Naveen Rajesh and Varoon S of Chennai, Lalnunsanga, Lalhruaizela Aizawl, Vanlalthlamuana, P.C. Andy Lalhmangaihsanga, V. Lalhlimpuia, Augustine Laltlankima, Neneiha Lalneithluanga, Zothanmawia (all from Aizawl- Mizoram), Eshaan Shankar of Delhi and Jaden Gunawardena of Sri Lanka.
The selected riders compete against each other in the three rounds for Red Bull Road to Rookies Cup, held alongside the Suzuki Gixxer Cup held at Kari Motor Speedway here, during the JK Tyre National Racing Championship.
Both the Suzuki Gixxer Cup and the Red Bull Road to Rookies Cup are being run as a part of the prestigious 20th JK Tyre FMSCI National Racing Championship 2017, with first round over last week end, July seven to nine at Kari Motorway here.
While the Road to Rookies Cup caters to riders between the 12 and 16 years, the Suzuki Gixxer Cup is for riders of 17 years and above.
The second round will be held from August four to six and third from September one to three at the same venue.
Red Bull MotoGP Rookies Cup, since its inception in 2007 has grown into one of the most thrilling 2 wheel spectacles in the world.
Subscribe To Our Newsletter