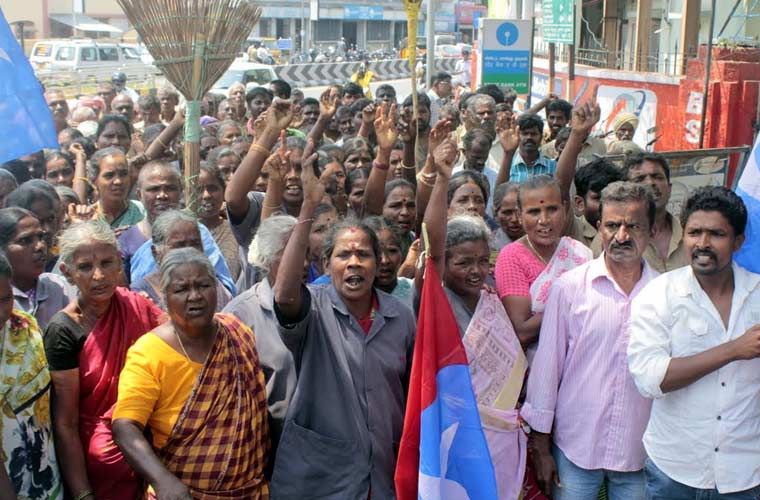 Sanitation workers from Goodallor panchayat staged a protest at the Coimbatore Collector's office demanding salary hike, a permanent permit and sufficient equipment.
More than 100 sanitation workers from Veerapandi, PN Palayam, Kovil Palayam, Narasanayakam Palayam, Karamadai and Goodallor panchayats today submitted a memorandum in the Collector's office. They demanded a raise to Rs 500 from their present daily wage of Rs 200 and also wanted cordial behaviour towards them by officials. They also needed permits which enable them to get pension as in the present dispensation just 5-8 among 500 workers get the benefit.
The workers also alleged that government officials looked down upon them as they were involved in cleaning jobs.
Ramaswamy (40), one of the protestors, said he was suspended for four days as he asked officials for his salary slip. The head of the department marked him absent these days, despite his having worked, he told Covai Post.
Pushpa,also from Goodallor panchayat, is nearing 60 and says she retired a few years ago and was yet to get pension. She said that she had submitted a number of petitions earlier.
"Some male workers gets salary money from the fund set aside for women (magalir kuzhu sangham). None knows what happens in the office," was another worker Nagappan says.
After negotiations with the Collector the protesters said they would wait for a decision in the next 10 days. They said that it was agreed to raise their daily wages to Rs 475, but then a decision on whether to go ahead with the protest would be taken on coming Monday.
Subscribe To Our Newsletter