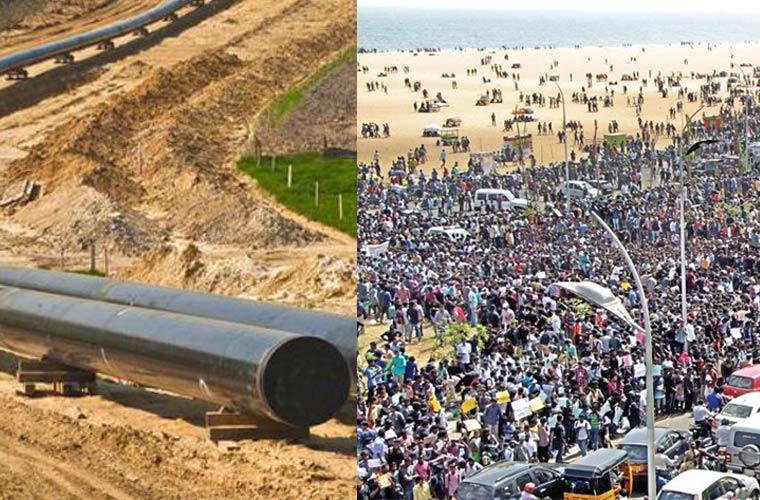 Chennai: Even as farmers in Cauvery delta of Tamil Nadu are protesting in New Delhi to highlight their plight due to acute drought and failure of crops, the centre has heaped another burden on farmers in Southern Tamil Nadu by going ahead with Neduvasal hydrocarbon project that the farmers of the region believe will ruin their farms and farming.
For sure, this Neduvasal issue has all the makings of yet another Jallikattu moment, with the entire opposition coming together to protest against this move amid expectations of youth and students to revive their agitation against the project that they had carried out for three weeks in February. The 22-day stir was suspended after the intervention of union commerce minister earlier this month on March 10.
Tamil Nadu police stepped up security in around Marina beach and similar protest venues across the state in view of the revival of the Neduvasal agitation, going by the mood of the farmers of the state. First to question the centre's signature on MoU with a private company to extract oil and gas from Neduvasal was DMK working president and leader of opposition in TN Assembly, MK Stalin. He also extended support to the Neduvasal farmers and asked the chief minister to come clean on the project and the centre's letter on the project sent to him.
In a statement here, Stalin said the agreement by Centre was shocking and asked the state government to reveal the contents of the central government's letter on the hydrocarbon project in Pudkottai district, located some 400 km from Chennai.
Stalin, who had written to union government before, urged the centre to drop the project as it would destroy farming activity in the village and its surroundings.
The union government entered into contracts with the private companies that bid for the wells and for the one in Tamil Nadu, contract was signed with Gem Laboratories.
Tamil Nadu Chief Minister E Palaniswami had declared that the state government will not give clearances or sanctions to the project, but in the wake of central government's decision, the state may not be able to withhold permission.
But union ministers, Pon Radhakrishnan and Nirmala Sitharaman, had promised to the Neduvasal protesters that work on the field will start if and only if TN government addressed their concerns.
TNCC Chief S Tirunavukkarasar alleged that the central government had cheated the farmers of Tamil Nadu. "Our support is for the agitation against hydrocarbon project," he said talking to media persons.
Subscribe To Our Newsletter