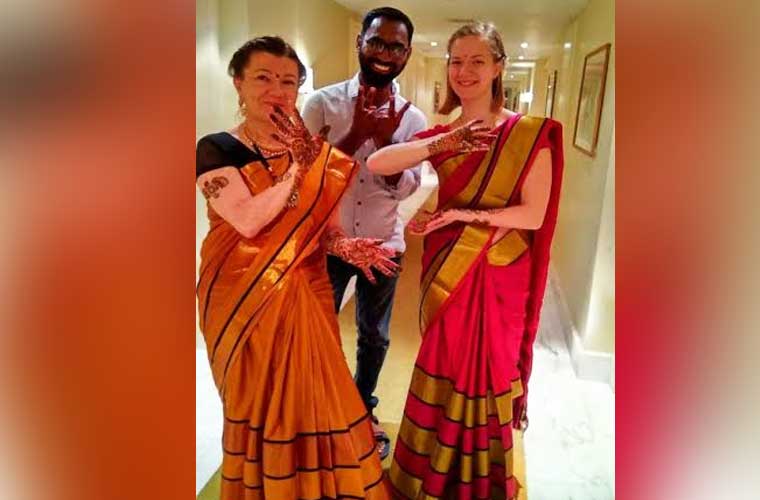 Last year, Tourism Minister Mahesh Sharma as part of ensuring tourist security came out with a welcome kit for tourists listing a number of do's and don'ts including a dress code, an advice to click pictures of vehicle number plates and send it to their friends as a safety. But after the Delhi gangrape case and rising attacks on female tourists, there has been a great decline in the rates of women tourists.
But a recent Facebook post by a foreign national should come as a relief. Carmel Scaringi post spoke about how a driver and guide was one of the most trustworthy persons in this country.
Director and owner of Sun Riders Tours and Travels S S Naveen told Covai Post how he met the Scaringi couple eight months ago on a trip to Aurobindo Ashram. They held him so fondly in their hearts that, when they decided to travel to India again, they had insisted on Naveen being their guide and driver.
Covai Post caught up with Scaringi who said the decision was because she simply trusted him. She explained that he was a man who would be open with them about customs, guide them about food, items to buy and was honest about the trip rates. He treated them like members of his family. She also enjoyed meals cooked in his house and the amount of effort he took to navigate them through a different culture.
On fears foreigners have about travel to India, Scaringi said India was thought to be a poor, dirty country where many crimes happen. But, she disagrees and says, "India is not to be seen. It is to be experienced". She enjoys her trip and loves the country but names Naveen as the reason for her safety in an alien land.
About reports of rising crime rate involving female tourists in India, Naveen says it is all about the mindset of people. He insists that such crimes are found all over the world and restricting it to one country and one type of people is wrong. He also adds that while he asks his clients to dress in appropriately in spiritual places, restrictions on clothing were highly narrow-minded. blaming a woman's clothing and thinking of it as the reason for crimes is sheer stupidity, he adds.
As a business owner, it is his responsibility to assure the safety and happiness of his clients. Proper interaction, honest business charges and treating clients with respect and love that a family member deserves, are the steps Naveen believes will go a long way to creating a positive and memorable impact upon client's mind about the nation and about his business.
Subscribe To Our Newsletter