Travel along the Uppilipalayam flyover has turned dangerous with one side of it all set to come down. The Corporation has been flooded with petitions to take immediate action before a disaster.
Avinashi Road starts from Uppilipalayam flyover and ends at Nilambur bypass junction and is part of NH47. The flyover is the gateway to the northern and eastern sides of the city.
Around 10 lakh vehicles pass through the flyover daily. Its side walls are damaged and pose a serious threat.
"For the past three years I have been travelling along this route from Nanjappa Road to Variety Hall. The side wall of the bridge is damaged and during night when visibility is low, the threat is grave," said a private firm marketing executive L Rajkumar.
Roads under the flyover too are full of potholes.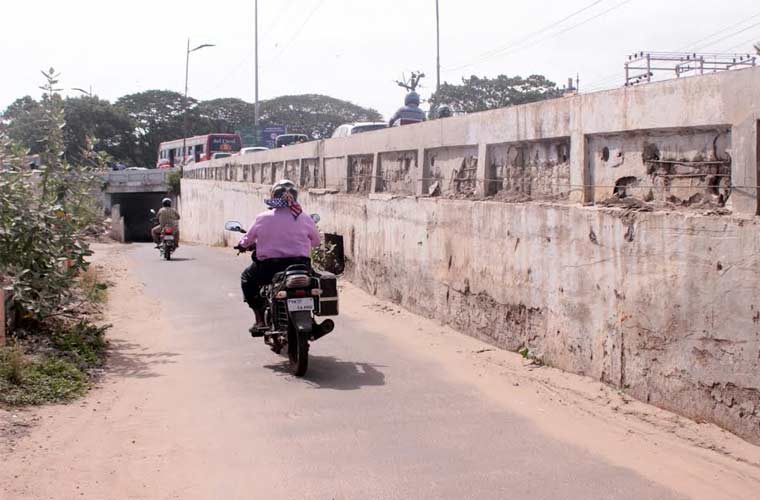 There is also a railway track in the middle of the bridge and more than 30 trains pass through it daily. To avoid toilet waste from trains falling on the road, sheets are laid on the track every year but the rusted sheets can fall off any moment, said local residents.
"Officials should take action immediately or else the problems could worsen," said businessman J Karthick.
During monsoon, people are advised not to use the underground road.
"Since the flyover is a main city gateway, there is the need to make necessary repairs at the earliest. Owing to its poor condition, people have started skipping the bridge and instead take a circuitous route, travelling an additional 4 km," said social activist A Arocikasamy, Social activist.
"Coimbatore is under the Smart City programme. Steps to make necessary changes on bridges and relay tin sheets will be done immediately," said a corporation official.
Subscribe To Our Newsletter