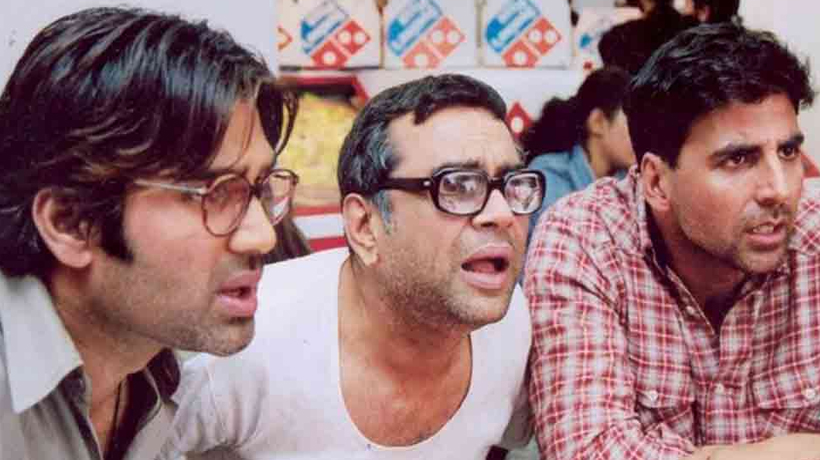 New Delhi: The iconic movie 'Hera Pheri' had us laughing till our cheeks hurt! Akshay Kumar, Suniel Shetty and Paresh Rawal tickled our funny bone and made 'Hera Pheri' one of the best comedy movies of all times. Hera Pheri part 2 titled 'Phir Hera Pheri' released in the year 2006 but the magic of the original movie was missing. As per a report in Mumbai Mirror, Hera Pheri 3 is on-board and will hit the theatres next year! The best part? Akshay Kumar, Sunil Shetty and Paresh Rawal have joined forces again for the film!
A source told Mumbai Mirror- "The project was locked last month after the three actors gave their dates. It will be shot in a start-to-finish schedule between December 2018 and February 2019 and will release in the second half of next year."
Filmmaker Indra Kumar took to Twitter to share the news. From his tweet, it looks like he will direct the film.
Indra wrote- "This is going to be a fun project with a stellar star cast @akshaykumar @SunielVShetty @SirPareshRawal Looking forward to #HeraPheri3"
Hera Pheri starred Akshay Kumar, Suniel Shetty, Paresh Rawal and Tabu in lead roles whereas in part II (Phir Hera Pheri) Bipasha Basu and Rimi Sen joined the terrific trio.
The audience has been waiting patiently for the film for quite some time now. With this latest piece of news, the excitement level for the film will surely go up!
Subscribe To Our Newsletter