National award-winning make-up and prosthetics artiste Preetisheel Singh, who is working on Ranveer Singh, Shahid Kapoor and Deepika Padukone's looks in Sanjay Leela Bhansali's much-awaited period drama Padmavati, talks about working on period films and the power of prosthetics
You are working on the looks for Ranveer Singh, Shahid Kapoor and Deepika Padukone' in Sanjay Leela Bhansali's much-awaited period drama Padmavati. What was your brief and what are your references? How difficult is it to create a look when there is little reference to draw from?
I start my process by reading the script and understanding each and every character. After that I do my research as to what a character from that era would look like. With a period film like Padmavati, there is not much found on the internet. Hence I create designs keeping in mind the actors faces. It is very challenging but that's what gets the best out of me. I try and make sure I give a character something new keeping the authenticity alive.
I believe that you are trying to do something different with the look. What is that?
As an artist, I always try to make a difference in my work with every project. This project is very close to my heart and I am very excited with the look-designs of all the stars in it. Sanjay Sir has shown his trust in me and I have never let him down. I hope the industry appreciates the work once the movie is out.
You have worked in many period films, be it Bajirao Mastani, Rangoon, Haider — what was the experience? Does comfort with an actor make it easy to work with them? Make-up wise, who is your favourite actor?
Having worked on a lot of period films, it has become my forte 🙂 The experience is overwhelming. It's very different with every director and that's what makes it even more exciting. In my experience so far, I haven't faced any issues with any actors. But yes it definitely helps a lot if an actor is comfortable with working with you. All are favourites 🙂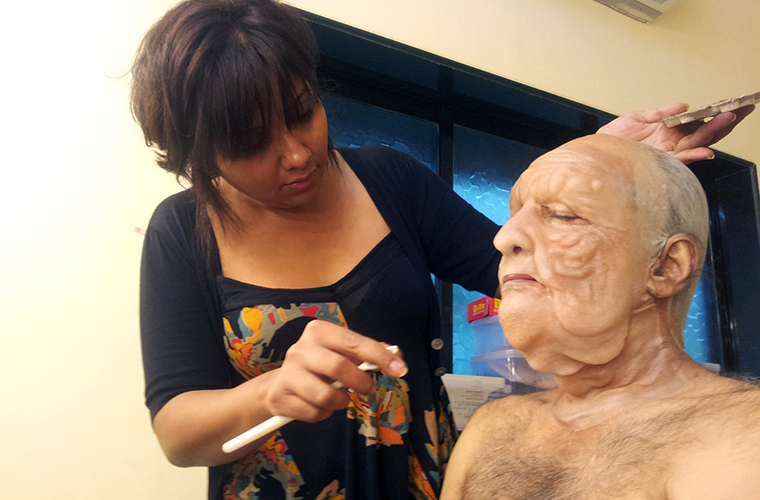 What's prosthetics all about and what goes into it creating it?
Prosthetics is an art. Just imagine that you have the power to transform a person into any one you want, even a creature. That's the power of prosthetics and I am honoured and thankful to be a part of this art. After finalizing a design, the first step in prosthetics is measurements which is done through a process called a life cast. Post the life cast, we then get into the sculptor stage using clay. The sculpting is done as per the maker's requirements. Then we create a mould of the finished sculpting. Making sure our mould is perfect, we then fill in silicon and get our pieces ready. Now the most important part of prosthetics is blending that silicon piece on to the actor's face and finally colouring it to match the correct skin tone. There's a lot that goes into prosthetics to get that perfect look that you see on the big screen that make people go Wow!
Subscribe To Our Newsletter