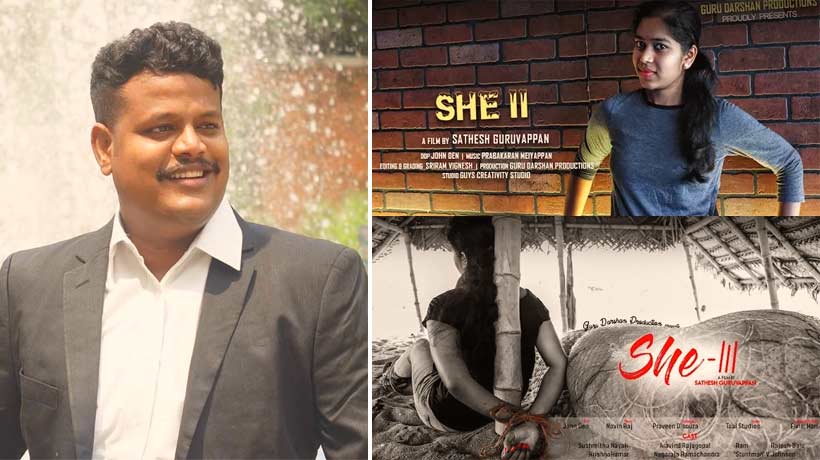 Image credit : Illustrative Image
Sathesh Guruvappan, Director,Producer and Writer is known for his short film series, 'SHE' that addresses the most pertinent issue of our times, crime against women. SHE abbreviated as "Stop Harassment Everywhere" is divided into three parts, SHE-1 is a film against Eve-Teasing, SHE-2 is a film against Acid Attacks and SHE-3 talks against Rape. 'She' series has been received very well by the viewers, especially SHE-2 that crossed a crore views. We chat up with him about the series and what made him choose this subject.
1. What made you film 'SHE', what was the trigger
Since my childhood, I am watching news on crime against women. Violence against women are on the rise. Hence I decided to create awareness on these topic via Short Films.
2. Take us through the making of the film and the subject. How difficult was to explore this subject
First I wrote one line message and then developed the script. Since I was a Project Manager in IT Industry, I was very comfortable in preparing and executing the plans. I used to complete the shooting in single day. Most of my friends, office colleagues and neighbors are involved in the casting side. Since I know them personally l, it helped me to allocate the right role for them. Most of the projects are executed based on crowd funding approach.
Most of them had the passion for acting, writing, music, photography and so on. I was so happy and proud to say, that I have introduced 75+ talents in short film world and fulfilled their dreams. I gave acting opportunities to public as well in my short films.
I didn't find any difficulties in exploring this SHE subject.
3. Crime against women have risen drastically, what do you think is the reason, and is there a possible solution?
There are no severe punishments, that's why crime against women is on the rise.
There should be severe punishments from Government, Private Organizations, Colleges and Schools; wherever it happens.
4. Your films have been received well. Your thoughts
It's really motivating a lot of people to do good films. I am very happy to see my SHE 2 spread awareness on acid attacks with 1 Crore+ people watching it.
People appreciated the film and also kept discussing the possible solution. I planned to execute SHE 4 as well. Film is about against child sexual abuse.
5. Short films are being liked by the audience, suddenly people are waking upto good films regardless of the format of the film. Your thoughts
That's really great. Many talented people will step into Short films. Now we are in twenty twenty cricket mode, people love to watch films also in shorter duration. That's an encouraging factor.
6. Could you talk about your experience of filming 'Against acid attacks'
First of all, I would like to thank my crew and mention their names here.
Casting# Sushmitha, Prabakaran,Vamsi, Subramaniyam, Priya, Laxmi, Rengaraj,Saranya
Associate Scriptwriter# Nandhini Sathesh [ My Wife 🙂 ]
DOP# John Den
Music# Prabakaran Meiyappan
Editor# Sriram Vignesh
Sushmitha was very supportive and played the LEAD character in both SHE-2 and SHE-3 films. My music director Prabakaran played the negative role in this film.
We shooted the film in a single day. While mking it, acid throwing scene was challenging. I googled acid attack victim's photos and highlighted them in film end card. Post SHE 2 release, I had received appreciations from acid attack survivors too.
WATCH THE FILM HERE : https://www.youtube.com/playlist?list=PLY7m6_o62HSYT_7rI4VgRhsrCdBRUZllu
Subscribe To Our Newsletter