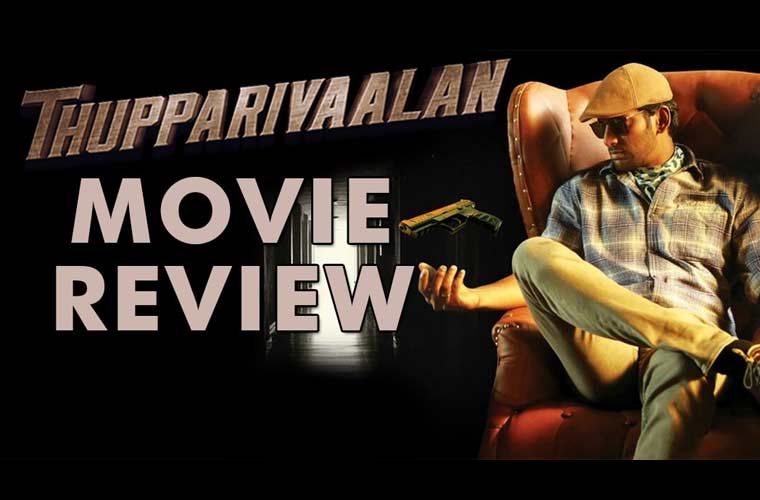 Director Mysskin is back with yet another crime thriller with Thupparivaalan and this time he chooses an action hero as his lead. Not just Vishal, the film is packed with a bandwagon of stars like K Bhagyaraj, Prasanna, Vinay, Simran, Andrea, Anu Emmanuel and others.
Thupparivaalan might look like it is inspired by few popular crime stories like Sherlock Holmes. However, you still need to give credit to Mysskin for adapting a Holmes type film to suit the local audience. Mysskin has developed a gripping plot and narrated in a style of his own.
What if a trademark Mysskin protagonist meets Benedict Cumberbatch (Holmes)? That is how Vishal's character sketch looks to have been framed. He wears a sober face and has a wacky mannerism. You could probably see a lot of Mysskin in Vishal. It is a difficult role to pull off, and Vishal has done full justice to it.
Bhagyaraj gets to don a completely different role to what we have seen him do over the years, and he has one or two scoring situations to showcase his talent. Prasanna as Vishal's friend comes throughout the film and has supported the lead well. Actors like Simran, Jayaprakash and Aadukalam Naren come and go to infuse tension elements to the script.
We know Mysskin films are emotion driven and he really stamps his class when he perfectly knits a clever crime plot along with an impactful sentimental subplot. But Mysskin has tried his hands on a full-on commercial film here. It is more on suspense and less on emotional quotient. So it doesn't convey the much-needed pain. You don't feel excited or sorry for any of the characters which distance yourself from getting attached to the script.
You don't see anything so force fitted in the film except the Andrea escape scene which wasn't made convincingly and could get you feel that it was a compromise made for commercial purposes.
It is evident that Mysskin has a fascination towards violin. You could find that violin is not just an instrument used, but it is also a character that the director uses to convey his thoughts.
Thupparivaalan is a mainstream product that keeps the audience at bay from the word go with plenty of suspenseful moments. But at one stage, few could vaguely understand where the plot is heading, and from there on, it might look less engaging, but the climax balances it in the end.
The action scenes were very well constructed. There are 3 to 4 solid action blocks that could go well with the masses. The love portions may not work for some since it is between 2 weird characters that you don't get to see often. The cinematography and music go hand in hand to uplift Mysskin's vision.
Verdict: A well etched out detective thriller with enough suspense to engage you throughout
BEHINDWOODS REVIEW BOARD RATING
( 3.0 / 5.0 )
PUBLIC REVIEW BOARD RATING
( 3.5 / 5.0 )
Subscribe To Our Newsletter