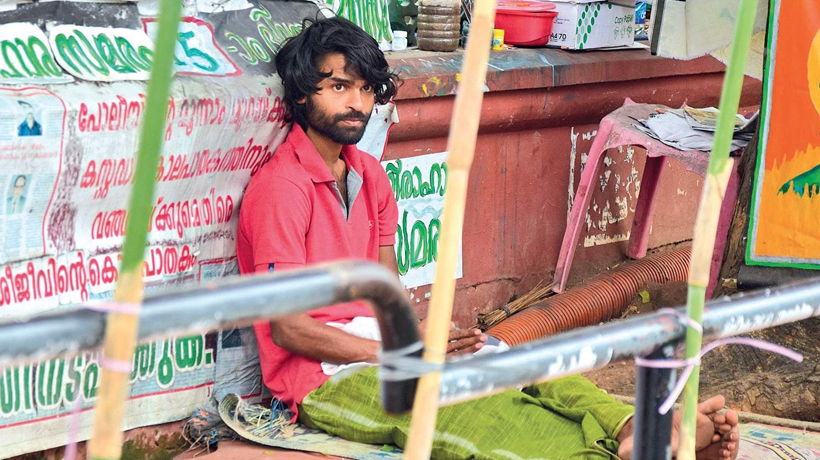 Kochi: Thirty one-year-old Sreejit has set a precedence of waging a solo war against police for allegedly killing his younger brother Sreejiv, 27, a few years ago.
He made unsuccessful appeals to ministers, political leaders and top political leaders seeking their help for a CBI probe to identify those responsible for Sreejiv's custodial death in May, 2014. The Congress-led UDF Government and the left Opposition gave little credence to his appeals then.
A depressed Sreejit was left with only one option to fight it out alone by protesting in front of the Secretariat. As he completes 770 days, his fight has come to limelight with the social media playing a big role.
As the issue is gathering public importance, politicians who ditched him then are making a beeline to express their solidarity. Public anger against politicians was palpable the other day when one of his supporters at the venue took Leader of the Opposition Ramesh Chennithala head-on by asking why he had ignored the issue when he was Home Minister in the last government.
BJP State president Kummanam Rajasekharan, senior Congress leader VM Sudheeran also visited Sreejit and pledged their support. Meanwhile, the government has demanded a CBI probe even as the Centre rejected it.
A letter from Union Ministry of Personnel, Public Grievances said the CBI was "over-burdened" with cases. The Chief Minister requested the Centre to reconsider its decision.
Sreejeev was arrested by police near Thiruvananthapuram on May 19, 2014, in an alleged stealing case as part of a plan to separate him from his lover who was related to a police official.
The next day he was admitted to the Thiruvananthapuram Government Medical College Hospital for allegedly consuming poison in the police station.
He died in hospital on May 21, 2014.
Subscribe To Our Newsletter