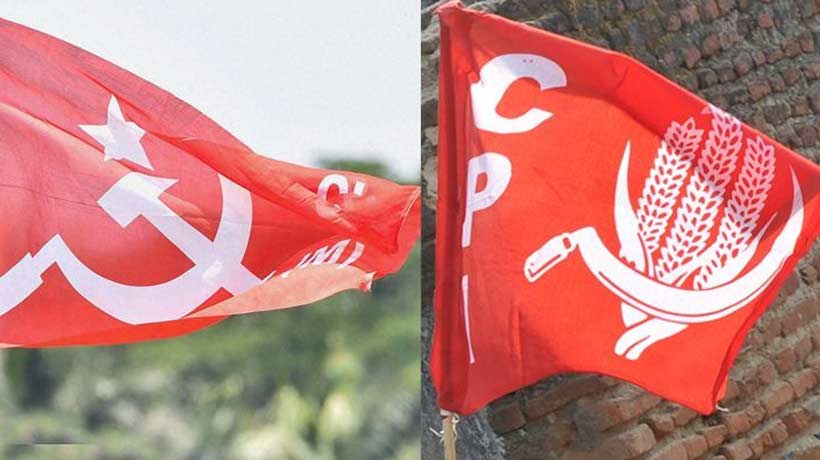 Image credit : Illustrative Image
Kochi: The CPM-CPI ties in Kerala are passing through a rough patch after four ministers of the CPI boycotted Wednesday's Cabinet meeting as they wanted Minister Thomas Chandy to be sacked.
The boycott caused embarrassment to the CPM and the government.
Another issue that had strained the relationship was the decision of the revenue department to cancel the title deed of CPM-backed Joice George, MP, whose father had illegally acquired reserved land from Tamil labourers in Kottakamboor in Devikulam taluk in Idukki.
The revenue department went after encroachers in Munnar which included CPM legislator S Rajendran. This had led to transfer of daring Sub-Collector Sriram Venkataraman. But the new person in his place, VR Premkumar, was given instructions by the Revenue Minister to go after the encroachers. This resulted in the issuing of summons to Joice after failing to appear before officials.
The revenue department cancelled the ownership right of 20 acres of Joice and his family members.
An inquiry found that his father had made fake documents in the name of six Tamil labourers to 'acquire' the land distributed by the government to landless Scheduled Tribes.
Kerala High Court, emphasising the need for protection of the fragile ecology of Devikulam, provided the much needed vigour to the revenue department.
Former Principal Secretary Nivedita P Haran in her inquiry report had indicted Joice for encroaching in five villages through fake documents.
The CPM has set up a body to fight eviction of people from encroached land, keeping the CPI out
Subscribe To Our Newsletter