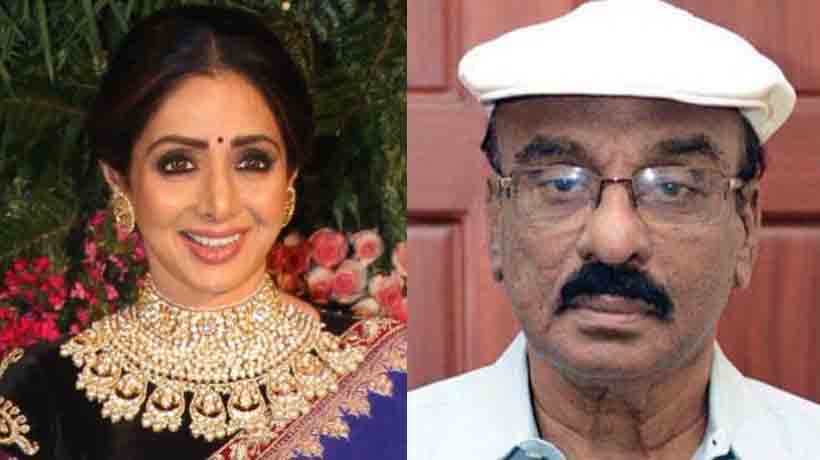 Kochi: Sridevi left an indelible mark in Mollywood through a few flicks before making it big in Tamil, Telugu and finally Bollywood.
She proved her mettle as a teenager of 13 in late IV Sasi's 'Antardaaham' with Soman. The film was a big hit. In fact, Sreedevi's all films were super hits those days. She had a terrific chemistry with late Sasi who went on to make eight films in a year with her.
Sasi also cast her in two of his Tamil ventures 'Pagalil oru Iravu' with Vijay Kumar in 1979 and opposite Kamal Haasan in 'Guru' in 1980. There were even gossips making rounds in Mollywood about Sasi and Sridevi.
She did most of her films with Kamal Haasan, including 'Aashirwaadam', Aadhya Paadam', 'Nirakudam' and Satyavaan Savithri. Interestingly' her films with an unpopular hero Vincent were superhits like 'Abhinandanam', 'Aalinganam' and Angeekaaram.
It was a great achievement for a budding artists to take on leading stars like Jayabharathi, Sheela, Vidhubala and others.
She was introduced to Malayalam industry in 1969 when she was only six portraying Lord Subramanian in 'Kumarasambhavam'. In 1971 she did 'Poompaata as child artiste.Thereafter it was all lead roles in 'Aalinganam', 'Kuttavum Shikshayum', 'Thulavarsham', 'Oonjaal', 'Satyavan Savithri', 'Nirakudam' and 'Aanimisham out the 20 odd movies.
'Kuttavum Shikshayum' was a remake of Tamil film 'Pennai Nambungal'. It was success all through taking her to the zenith of Indian films.
Subscribe To Our Newsletter