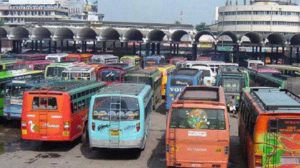 Kochi: A section of private bus owners tried to disrupt talks between government and another group of owners at government guest house at Kozhikkode today.
Some owners from Thrissur created fracas outside the venue when they were not allowed inside to attend the discussions.
They said they would not abide by the results of the talks as they were sidelined during the discussions and not intimated about the meeting.
They accused the group engaged in talks of toeing the government line to end strike without getting their demands met.
The bus owners are on strike and not operating their buses for the last two days seeking higher revision of ticket rates.
Subscribe To Our Newsletter