Superstar Kamal Haasan on Wednesday turned a full-fledged politician and launched his political party – Makkal Needhi Maiam – as a third and new alternative to the corrupt Dravidian parties in the presence of the mascot of anti-corruption plank – Arvind Kejriwal, Delhi chief minister and APP leader at a rally in Madurai.
There were thunderous claps, whistles and cheers among the audience comprising fans and supporters congregating at the Madurai venue, when Kamal Haasan announced the name of the political party soon after he unfurled the party flag.
Kamal Haasan steered clear of using either Kazhagam or Dravidian in the name of the party, in a powerful symbolism of something very different and new – as the two Dravidian parties are closely identified as symbols of corruption.
Waging a war against corruption, he spoke about cash for votes problem afflicting electoral politics in Tamil Nadu. "Had you voted properly, without taking money, the elected person would not be treating you like this. After voting, he will not be seen for five years as he has bought your vote. You should not allow it to happen," he said.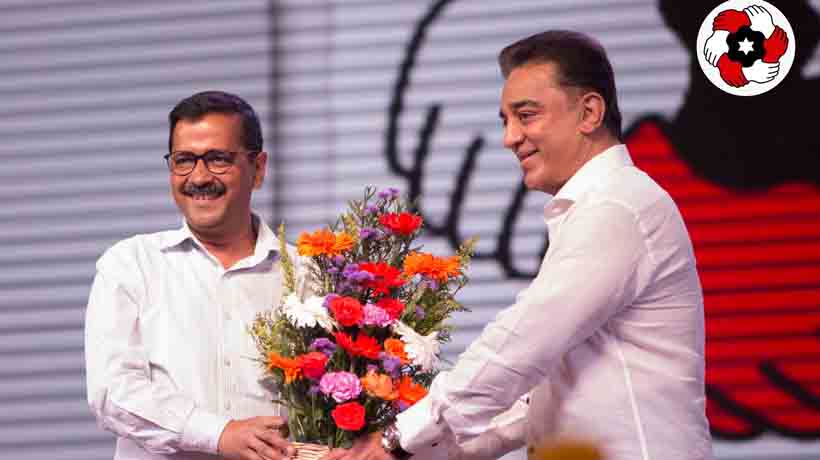 "I am not a thalaiva, I am one among you," Kamal Haasan's opening remarks after unfurling the party flag sets the tone and tenor of his political messaging.
"Don't think, left or right, just think of people and their welfare," Chandrababu Naidu told Kamal Haasan when they spoke last night. The one person who has successfully in Delhi is sitting here Kamal Haasan said referring to the AAP victory and welfare steps taken in Delhi.
On Cauvery, there should be dialogue and a spirit of give and take, rather than stoke passions by politicking, Kamal Haasan said. Earlier, Arvind Kejriwal described Kamal Haasan as a real-life hero for his courage to speak against injustice and communal forces in the country.
"Till today, people in TN are stuck between DMK and AIADMK. Both are corrupt. Now you have an alternative to vote for honest Kamal Haasan," Kejriwal said.
"We started AAP in Delhi, people rejected both Congress and BJP and gave 67 seats to AAP. But the kind of response I am seeing today, I am sure, people of TN will break the record of Delhi," Kejriwal said.
If you want corruption, vote for DMK and AIADMK. If you want schools, road, water, electricity vote for Kamal Haasan, the Delhi chief minister said. Earlier in the morning, Kamal Haasan began his political journey by making a pilgrimage to the residence of former president APJ Abdul Kalam at Rameswaram in Ramanathapuram district.
Kamal Haasan said that he was greatly inspired by Abdul Kalam and his simplicity and humble life style. "Greatness can come from simple beginnings," Kamal Haasan said in a tweet.
Said Saleem, grandson of Kalam, "Kamal spoke of changing Tamil Nadu and wanted development of the state. We also want him to do that and wish him well. Like others, he too is welcome to our home."
However, Kamal Haasan's desire to visit and spend time with students of the school where Kalam studied could not be fulfilled. The school rejected his request. Kamal Haasan halted for a minute before the main gate of the school.
Along the way to Madurai, Kamal Haasan had stopped at few stops, to address the fans and supporters who lined up on either side of the road.
Subscribe To Our Newsletter