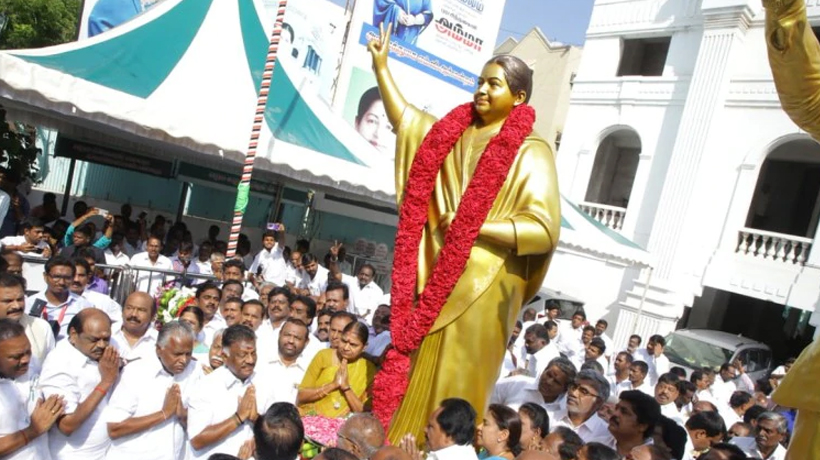 This is an insult, not a tribute," said actor Kasturi Shankar in February, when the AIADMK unveiled a shimmering golden statue that looked nothing like Jayalalithaa, its former leader.
When this article was first published, Shankar hadn't yet tweeted about the new one — but there appeared to be nothing to complain about at first glance. Disregard the stillness and the golden hue, and it was almost as though Tamil Nadu's "Amma" was standing right there, just outside the AIADMK's headquarters in Chennai.
At the party matriarch's feet stood top AIADMK leaders, their hands folded, the men clad in spotless white. Among them were Chief Minister Edappadi K Palaniswami and Deputy Chief Minister O Panneerselvam, who unveiled the statue.
Tamil Nadu is hardly the same with Jayalalithaa (and her one-time arch-rival Karunanidhi) gone. The AIADMK battled factionalism and infighting for months, and now faces a potent threat in TTV Dhinakaran, the rebel leader who beat the ruling party in a by-election to Jayalalithaa's seat.
Now, 18 disqualified AIADMK lawmakers — all loyal to Dhinakaran — will contest bypolls. Dhinakaran has said the AIADMK will "struggle to retain its deposit".
Outside the party headquarters, a gentle smile plays on Jayalithaa's aureate face as she makes the "twin-leaves" sign with her fingers. Whether her successors in government will look just as pleased when the poll results come, only time will tell.
Subscribe To Our Newsletter