KOLKATA: The Trinamool Congress is leading in all three Assembly seats for which bypolls are being held in Bengal. The three seats being contested are — Karimganj, Kharagpur Sadar and Kaliaganj. Counting of votes began at 8 am. The results will be declared amid a strain between the supporters of the Trinamool Congress and BJP over an attack on a BJP candidate during voting on Monday.
Bypolls were also held for Uttarakhand's Pithoragarh seat where the BJP is leading. The seat had fallen vacant after the death of sitting MLA and cabinet minister Prakash Pant in June. Mr Pant's wife Chandra took on the Congress's Anju Lunthi in the bypoll. Samajwadi Party's Lalit Mohan Bhatt is the third contestant.
In Bengal, the BJP's Karimpur candidate, Jay Prakash Majumdar, was heckled, assaulted and kicked into bushes by the side of the road by Trinamool supporters during polling.
Despite the violence, the assembly segments recorded an impressive overall voter turnout.
"The average voting percentage was 75.48 per cent. The turnout was 77.17 per cent in Kaliaganj, 67.62 per cent in Kharagpur Sadar and 81.23 per cent in Karimpur," the Election Commission had said.
The three seats were held by different parties – Karimganj belonged to the Trinamool, Kharagpur to the BJP and Kaliaganj to the Congress..
The Kaliaganj seat fell vacant after sitting MLA Parmatha Nath Ray died earlier this year. The other two seats went to polls as their MLAs– Trinamool's Mohua Moitra and BJP's Dilip Ghosh– were elected as members of parliament in May.
The bypolls were conducted six months after the BJP pulled off a stunning result in the national election in West Bengal. After a sustained onslaught by Prime Minister Narendra Modi and Home Minister Amit Shah, the BJP tally in the state rose from 2 to 18, while that of the ruling Trinamool Congress plummeted to 22.
Chief Minister Mamata Banerjee is under pressure from the BJP that is growing increasingly influential in the state. And with 18 months to go for Assembly elections in the state, these bypolls could indicate an early trend.
All the four major political parties — the Trinamool, BJP, Congress and the Left– will hope for a victory in these elections and carry the momentum into the state polls.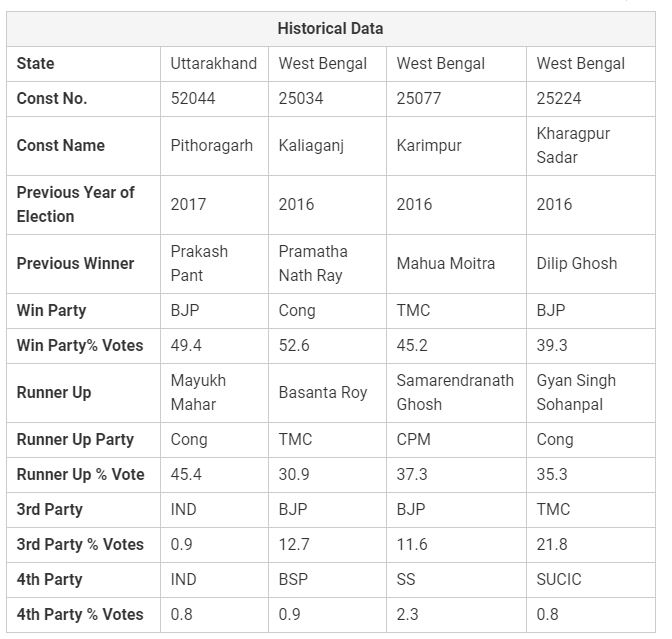 Subscribe To Our Newsletter