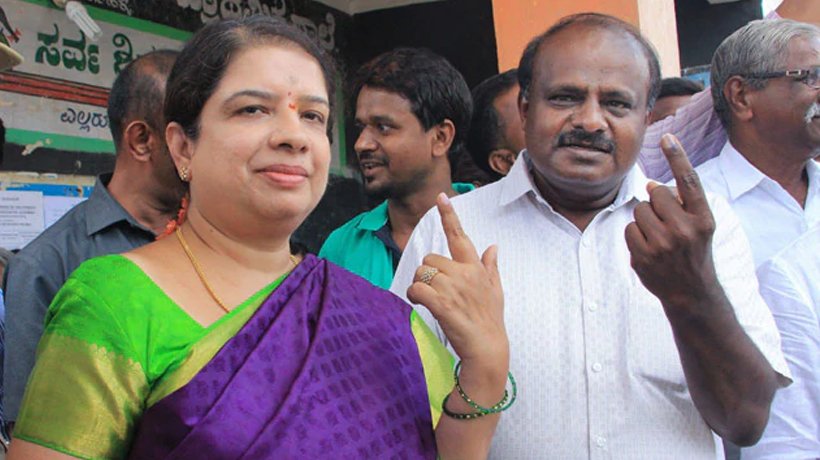 Bangalore : For the ruling coalition in Karnataka the eleventh hour coup in getting the BJP candidate from Ramnagara constituency going to polls on November 3, quitting the party and joining Congress gives it a shot in the arm. And is a growing sign of the alliance working together despite the pin pricks from disgruntled leaders in Congress and Janaka Dal.
For the BJP it is sure not a very good sign that it's candidate selection was so poor and it only highlights the state of the BJP that is banking on Karnataka for shoring it's numbers in the Lok Sabha general elections.
L Chandrashekhar, the BJP candidate from Ramanagara assembly constituency, returned home to the Congress party in just one month of joining the opposition party. With the principal rival gone, the coalition candidate Anitha Kumaraswamy, wife of the chief minister, is expected to have a smooth sailing in the prestigious seat earlier represented by her husband.
L Chandrashekhar, flanked by Congress leaders, announced that he was returning to the Congress as there was no unity in the BJP and that he had no real support in that party.
"I have come back to my mother party, I am happy," he told media persons.
Earlier when he joined the BJP he said that he was in touch with the BJP leaders for many years. Canvassing as the BJP candidate he said that people of Ramnagara were annoyed with Kumaraswamy for abandoning the constituency after becoming the chief minister.
The chief minister had quit Ramanagara constituency and opted to retain Channapatna from where also he won in the general elections held few months ago.
The outcome of the Ramnagara assembly constituency will not make any difference to the numbers game but the battle was prestigious as the BJP was branding it as a referendum on chief minister.
Subscribe To Our Newsletter