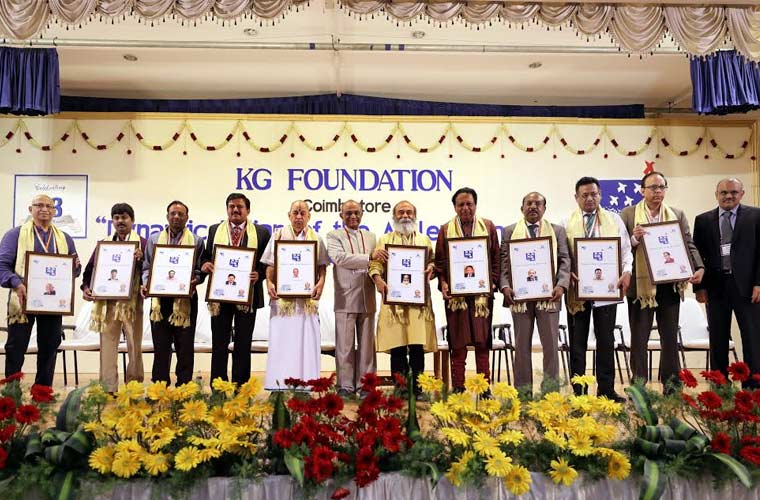 Former Permanent Representative of India to UN T P Sreenivasan and former Principal Advisor to the Director General of UNIDO Dr Jebamalai Vinanchiarachi were among the 10 eminent personalities who received the `Dynamic Indian of Millennium Award' instituted by K G Foundation.
The award was presented today in recognition of the contributions made in their respective fields, according to G Bhakthavathsalam, Chairman of K G Hospital. The foundation runs hospitals and educational institutions.
"The Dynamic Indian is the one who has risen above the ordinary people by making an extraordinary contribution to the nation. They have overcome many hurdles and put in tireless efforts to achieve success in their profession," he said.
Others who received the awards were Mithreshiva, founder of Dakshina Foundation and Neerkku Nandri (Thanks to water) movement, advocate TS Raghavendran, director and actor Raja Krishnamoorthy (Kitty), World Bank consultant Bidhan Das, head of radiology at Stanley Medical College Dr C Amarnath, Dr Shivkumara Palaiahnakote from the University of Malaya, Colombo-based Asiri Surgical Hospitals research head Dr Ram Mohan Vadapalli and Matrimony.com Founder and CEO Murugalvel Janakiraman.
The foundation also bestowed the 'Doctor of Excellence Award' on 35 doctors, including 10 from K G Hospital.
Subscribe To Our Newsletter