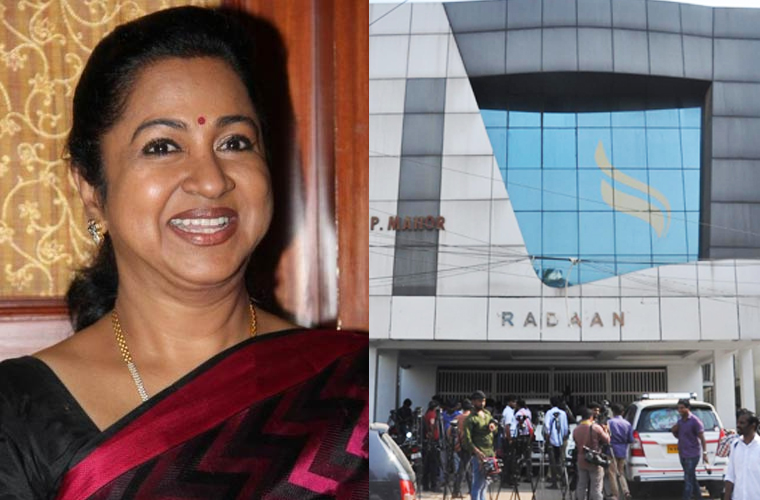 Speculation rife that a few more ministers could find themselves in the raid list of the IT officials.
Chennai: Amid speculations that raids against more ministers in the Tamil Nadu government were likely, the IT sleuths on Tuesday carried out searches at the offices of the television production company Raadan Media Works run by Radhika Sarathkumar, wife of actor Sarathkumar who was himself raided a couple of days ago.
The raids follow grilling of the actor, sources said. IT sleuths descended on the premises of the company located in T Nagar and began searches at around 1 p.m.
It was a ten member team that carried out operations at the media company office. The company was initially started as a proprietary business in 1994, which later became a corporate company in 1999.
On Tuesday, friends and relatives of Sarathkumar were also the target of the sleuths. There is widespread speculation in the social media circles that the raids could expand and cover more ministers of the Tamil Nadu government.
It is in this backdrop that opposition parties would want stricter action against the culprits and demand permanent ban on TTV Dinakaran in the electoral process. Already, a DMK delegation is headed for Mumbai to call on the governor seeking the dismissal of the ministers who were raided by the IT sleuths and strict criminal action taken against them.
Cash distribution to voters at R K Nagar constituency, which was earlier represented by late leader J Jayalalithaa, allegedly by Sasikala faction of the ruling AIADMK had sparked off I surveys and investigations and it was after sleuths stumbled upon incriminating documents linking some ministers and key ruling party leaders with distribution of money to voters, that a report of the IT recommended cancellation of the bye poll.
In the bye poll, now put off indefinitely, Sasikala's nephew TTV Dinakaran was taking on former AIDAMK presidium chairman E Madhusudhanan.
Subscribe To Our Newsletter