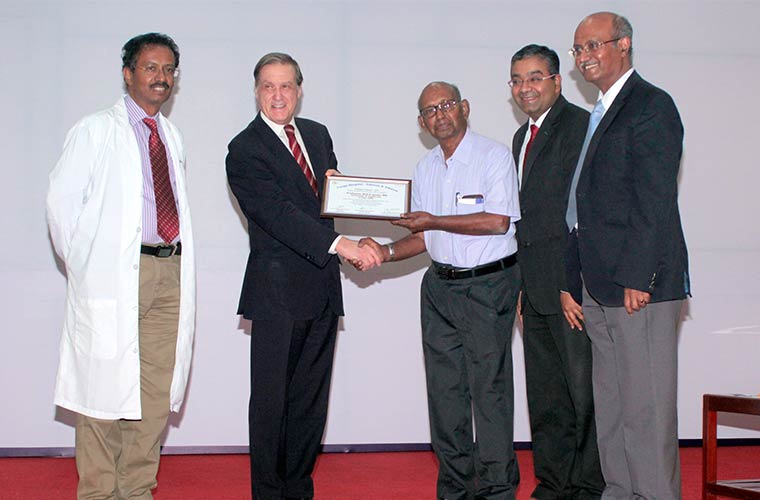 While the medical business industry is witnessing a 12 per cent growth annually across the country, awareness about diseases is low, says Aravind Viswanathan, Franchise Director of Ethicon Wound Care.
At the felicitation ceremony of Dr Neil F. Jones, Professor and Chief of Hand Surgery, UC Irvine Medical Centre at the University of California in the US who received the Ganga Hospital – Johnson and Johnson Professorship Award, Aravind said medical devices were contributing by and large for the growth in the field of medicine.
"Today's medical business is a $100-million worth sector in India and medical devices alone contribute to more than $5 million. This is only set to grow in the coming days," he said.
Among various fields, oncology, cardiovascular surgery, obesity and liver treatment were witnessing a rise in India over the past one year.
"More than 1,800 cardiovascular surgeries are done in India in a year; we are the third largest obese nation in the world and over a million patients were treated for liver diseases last year," Viswanathan said.
He claimed that the enormous private sector investment had contributed to the growth, and added that the public sector investment would go up rapidly in the next ten years. "Interestingly, private sector is also to invest more in rural areas, where their investment is relatively low compared to the public sector."
Despite this, bed availability and awareness level about health care were relatively lower in India and this resulted in unwanted mortalities.
Receiving the award, Dr. Jones spoke about the difficulties and challenges involved in hand surgery and also shared some personal experiences by citing specific cases he had to attend.
Subscribe To Our Newsletter