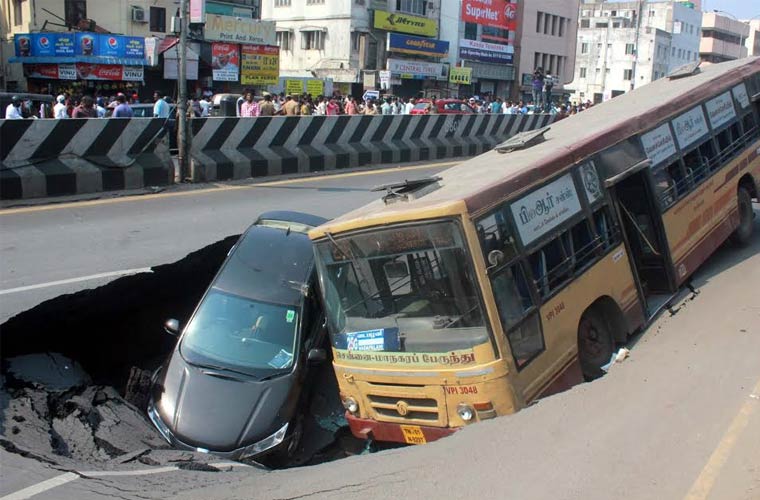 Chennai: It was providential escape for 40 passengers when a State-owned bus fell into a crater caused by the caving in of the arterial Anna Salai road in the city this afternoon.
A car that came along the road also fell into the crater and the driver too did not suffer any injury.
Finance and Fisheries Minister D Jayakumar who rushed to the spot said no one was injured. "Fortunately there are no casualties. All the passengers and the crew were evacuated immediately from the bus," he told the media.
The cave-in occurred due to the ongoing tunnel work as part of the Chennai Metro Rail project.
After a two-hour operation, involving officials Transport, Metro Rail, Police and Fire Service department officials, the car and then the bus was lifted from the two-foot crater. Traffic on the arterial road was affected following the incident.
The bus from Anna Square to Vadapalani had stopped at the Church Park School bus stop, when the road caved in. The driver recounted that it was as if the `bus began sinking after a tyre deflation'. Passengers were asked to alight immediately.
Metro Rail officials said the road caved-in when they were carrying out the tunnel boring work.
Two machines had been carrying out the boring operations for the past few months. It was only a few days ago that a leak was noticed at the spot where the crater formed.
Jayakumar said all precautionary measures would be taken and traffic on the stretch would resume by tomorrow evening.
Subscribe To Our Newsletter