In the wake of cyclone Gaja claiming at 36 lives in Tamil Nadu, C4TN (Coimbatore for TN), federation of over 60+ NGOs in Coimbatore formed during the Chennai floods, has begun collection centres to provide relief to those affected.
The districts most affected are Thanjavur, Tiruvarur, Dindigul and Pudukkottai.C4TN has established 11 collection centres in Coimbatore to help the people stranded in villages facing paucity of food, drinking water, groceries, medicines, generators, clothes, utensils, candles and other essentials.
The materials from the storage centres are taken to the R.S.Puram hub where the materials are segregated and sent to affected areas. Financial or material donation even if a small contribution, can go a long way, according to C4TN.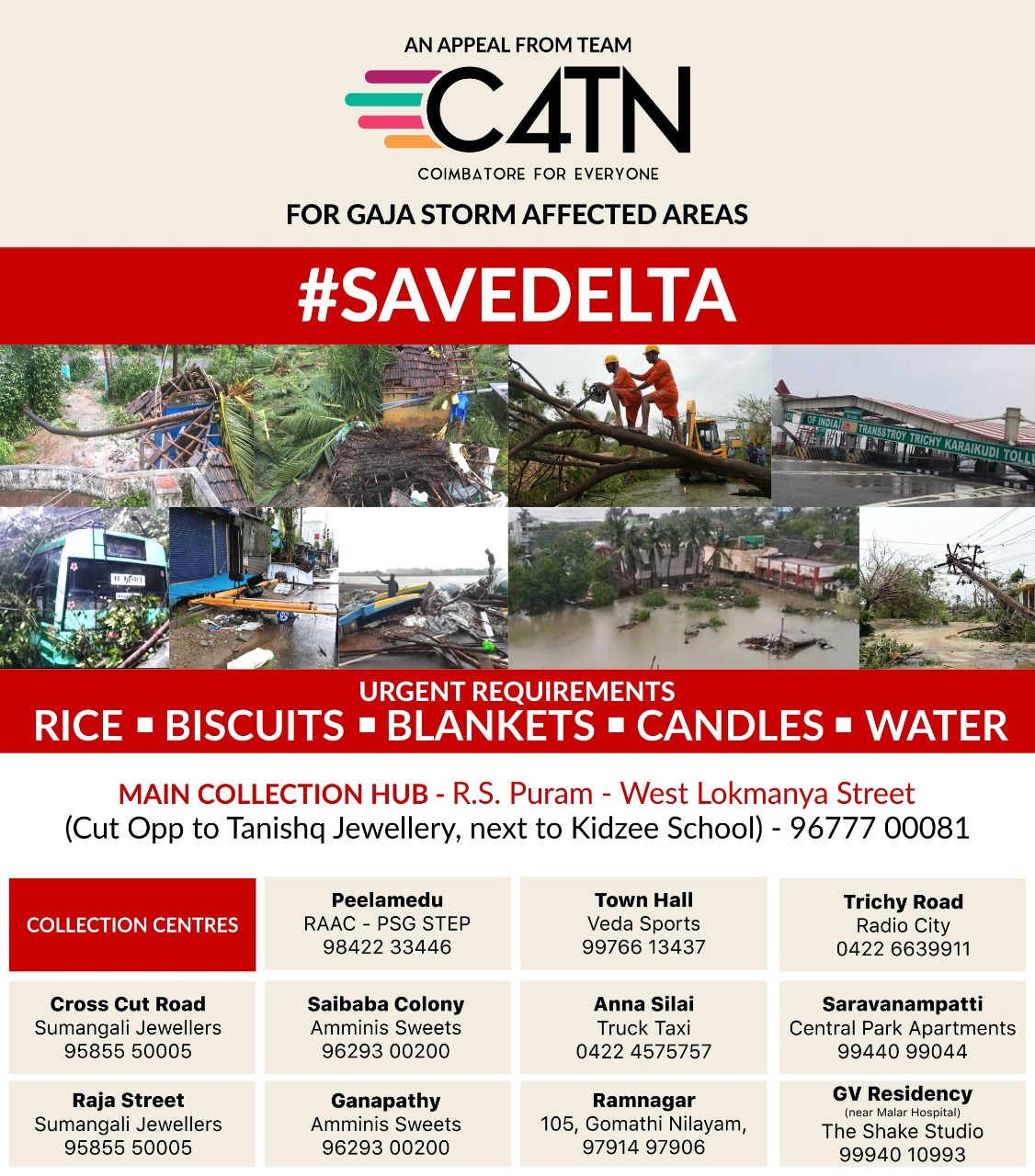 Those who can't help with products can support the cause with cash transfers:
RAAC
A/c no: 30047335316,
Bank : State Bank Of India,
Branch : Peelamedu, Coimbatore.
IFSC Code : SBIN0007231
Send the reference no or screenshot to 9894623413
(RAAC Residents Awareness Association of Coimbatore is an NGO.)
People have faced severe damage to property and disruption of power supply. As many as 22,680 high tension poles and 63,156 low tension poles have been damaged in Tamil Nadu, says Tamil Nadu Generation and Distribution Corporation (Tangedco),
A survey has been conducted in Nagapattinam, Pudukottai, Thanjavur, Tiruvarur, Dindugal, Ramnad, Sivagana, Theni and Cuddalore. Most of the damage to the poles (84,836) was in Pudukottai. Also, 1,152 km of high tension lines and 3,087 km of low tension ones were damaged due to the cyclonic winds. A total of 841 distribution transformers have been damaged.
Subscribe To Our Newsletter