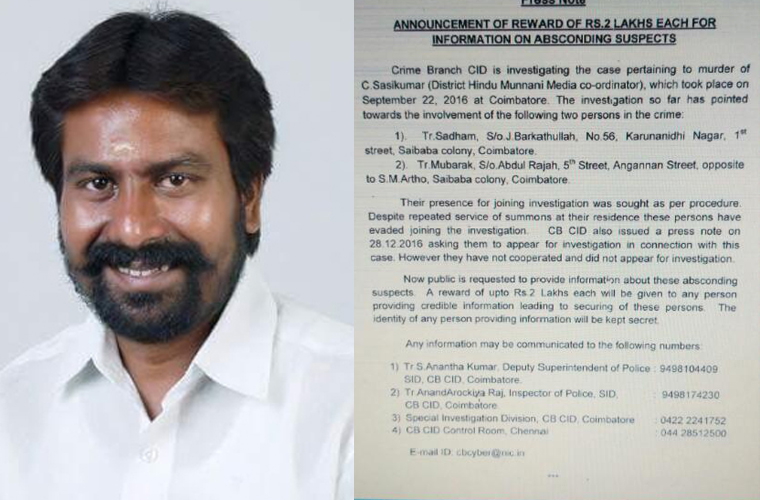 The CB-CID today announced a reward of Rs 2 lakh to those providing information about the whereabouts of two key accused, involved in the murder of Hindu Munnani activist Sasikumar at Coimbatore on September 22 last year.
Investigations have pointed to the alleged involvement of Sadham and Mubarak, both residents of Saibaba Colony in Coimbatore, according to a press release from the CB-CID.
"Their presence for joining investigation was sought as per procedure. Despite repeated summons, the duo were evading the police dragnet," the release added.
The public was requested to provide information about these absconding suspects.
"A reward of upto Rs 2 lakhs each will be given to any person providing credible information leading to securing of the two. The identity of the person providing the information will be kept secret," the release said.
Anyone having information could communicate it to S Anantha Kumar, Deputy Superintendent of Police (9498104409), SID, CB CID, Coimbatore, Anand Arockiya Raj, Inspector of Police, SID (9498174230), CB CID, Special Investigation Division, CB CID, Coimbatore (0422– 2241752) and CB CID Control Room, Chennai (044–28512510).
The information could also be sent through e-mail to [email protected]
It may be recalled that two key suspects, Sadham and Mubarak, had gone missing two days after the murder and the CB-CID police have
spread a dragnet to nab them.​
Subscribe To Our Newsletter