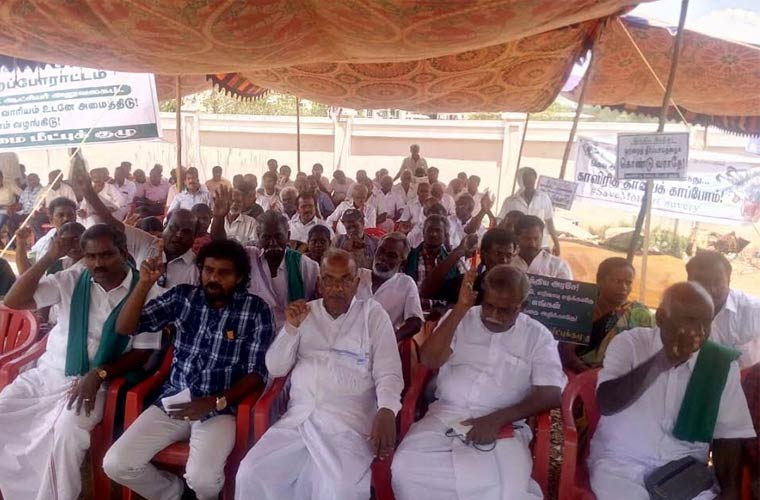 Thanjavur: Actor and director Kalanjiyam today joined the farmers who are on a sit-in agitation in front of the collectorate as the protest entered the third day today. The farmers have been pressing for fulfillment of various demands, including the immediate constitution of Cauvery Management Board.
Terming the farmers' 15-day-long agitation in New Delhi as just and fair, Kalanjiyam accused both Central and State Governments of 'betraying' the farmers' interests. "A situation will arise wherein farmers will have no option but to commit suicide if their demands were not fulfilled," he said.
Kalanjiyam alleged that both the Central and State government were resisting the youth and students from taking part in the farmers' agitations. "If the youth and students are resisted, the agitation will still become strong and take a gigantic proportion."
Despite pleas from the police and the revenue officials to call off the stir, the agitators refused to budge. The agitators also urged the Government to pressurise the Centre to immediately constitute the Cauvery Management Board and the Cauvery Water Regulatory Committee. They appealed to the Centre to drop the plan to set up a single tribunal to hear all inter-state water sharing disputes.
P. Maniyarasan, Coordinator of Cauvery Rights Retrieval Committee, demanded that the Centre declare the entire Delta region as a protected agricultural zone, banning all 'destructive' industrial activities such as exploration of shale gas, coal bed methane gas as well as hydrocarbon.
People from various walks of life have expressed solidarity with the protesters and their cause.
Subscribe To Our Newsletter