Union minister of State for Commerce and Industry, Nirmala Seetharaman today assured the trades and industries that she will take their grievances with regard to GST to the Government and personally recommend to have a review after three months of implementation.
Responding to various doubts about the fixing the slab for different trades and industries in an interactive session organised by Distrit BJP unit here, Nirmala said that there should not not be any confusion with regard to GST rates on various products and industry should come forward to raise their doubts and objection.
She said that there would be some teething problem during the implementation of the system, which was conceptualised by taking the people into confidence and trust and also passed by the State Governments.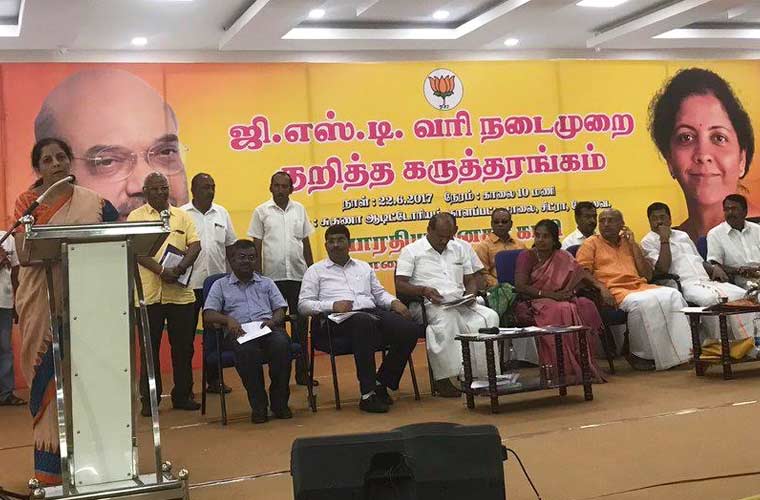 "However, in case if the industries are not not 100 per cent satisfied, definitely I will recommend to have a review after three months, as suggested by some organisations," she said.
Assuring that no penalty will be imposed for three months if small and medium entrepreneurs failed to submit GST returns, she said that the government was ready to make accesible the system, through the Chartered Accountant and Cost Accounts Associations of Chambers of Commerce at District headquarters.
Later clarifying to reporters, Nirmala said that the changes in duty draw back scheme will not not definitely affect the export performance, since India is exporting products and not tax.
Coir Board Chairman, C P Radhakrishnan said that GST will be a boon and the problem raised by the industries will be solved one by one in due course.
The country can expect judicial reforms and electoral reforms soons on the line tax reforms like GST, Radhakrishnan said.
Subscribe To Our Newsletter