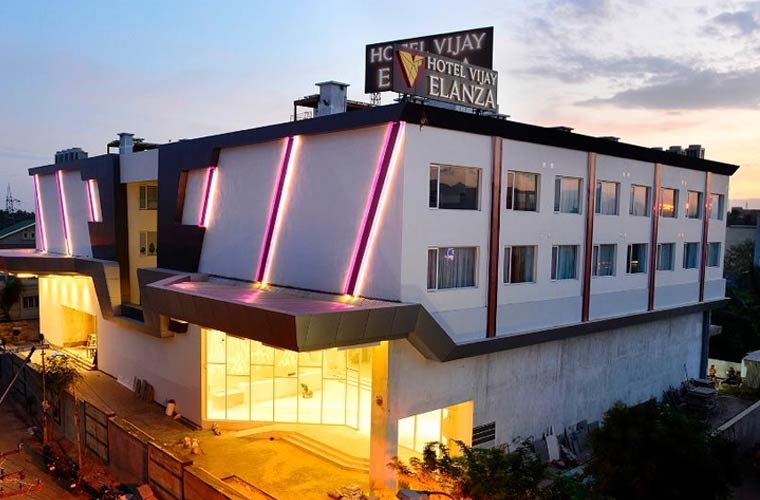 Throwing norms to the winds, liquor flows continuously at star hotels in Coimbatore despite the Supreme court ban that no liquor should be served in the bars of the luxury hotels that are within 500 meters periphery of State and National Highways.
A team from Covai Post on Tuesday visited Hotel Vijay Elanza, a relatively new luxury hotel, 50 metres off Avinashi Road, Peelamedu was shocked to see two bars in the hotel functioning and liquor served without any regard for law ( the video is available in covaipost.com)
According to the bar manager, liquor would be served to the customers till midnight (12 o' clock) daily.The hotel has two bars – He Brews and Sky Lark – where tipplers are seen guzzling beer and hard liquor including whiskey, brandy, gin and vodka.
According to them, Hotel Vijay Elanza is not the only hotel that serves liquor, but several hotels adjoining the highways continue to operate bars and welcome visitors.
Earlier Covai Post talked to a couple of hoteliers in the city including Le Meridien and Residency Towers and they said that they have stopped serving liquor from the night of March 31 as it is a Pan Indian phenomenon. "We honour the order even though our food and beverages business has taken a beating," they told this correspondent.
While some hotels have closed their bars and stopped serving alcohol to their guests in banquet halls and other dining areas, some continue to hoodwink the authorities and welcome guests into their bars.
The Secretary of Coimbatore Consumer Cause and consumer activist, K. Kathirmathiyon, told Covai Post that it is the duty of the District Collector, Prohibition and Excise Department officials to ensure that the Supreme Court order is implemented in letter and spirit. "They should not hesitate to close down the TASMAC outlets operating in State and National Highways even though the State is the stake holder in the business," he said.
When Covai Post contacted Additional Deputy Commissioner (Prohibition & Excise) Lalitha, she said that bars in the said hotel must be operating in a clandestine manner. "We will look into the complaint and take necessary action. Sometimes they close the front door and indulge in such malpractices," she said.
Another senior officer in Prohibition and Excise department maintained that the court order was being implemented within the city limits and as per the orders Commissioner of Police A. Amalraj.
Subscribe To Our Newsletter