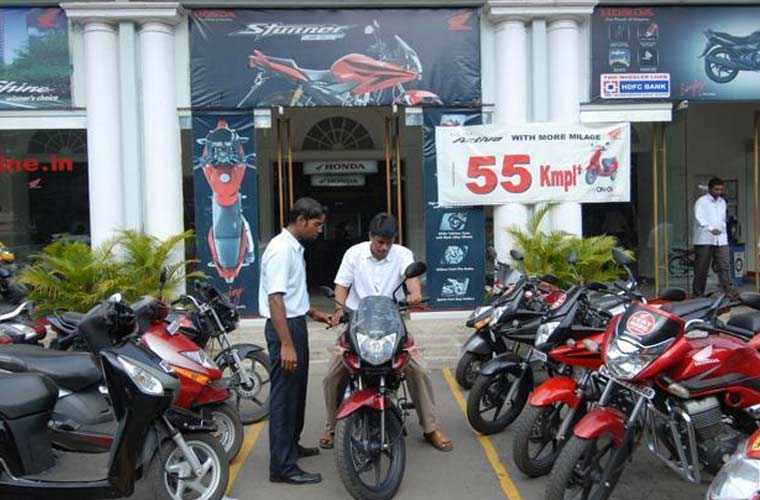 It was raining discounts on vehicles, thanks to the ban on sale of Bharath Stage (BS3) vehicles after March 31. In its bid to clear the inventory of 6.7 lakh two-wheelers, several companies like Bajaj and Honda offered discounts up to Rs.22, 000.
Covai Post learnt from employees of Chandra Honda, a two-wheeler dealer, that the whole stock of about 250 two-wheeler models such as Activa, Shine, Neo and Yuva were sold a day before March 31. "We did not wait for the final day as the offers were attractive and products went off the shelves immediately," said one of the showroom staff.
Suguna Automobiles on Avinashi Road, which sells Hero Honda, witness similar inventory clearances after the discount offers. "The customers were quick to cash in on the huge offers and the whole stock was sold out before the night of March 31," said the showroom manager.
As for the four wheeler segment, the showrooms in the city had a different tale. An employee of Aadhi Maruthi showroom on Sathy Road said Maruti no longer sold BS3 vehicles. "Actually, the last car in BS 3 category was Maruti 800 (2013 make) and since then BS 3 vehicles had been phased out and we are already selling only BS 4 vehicles, which meet the new emission norms," he said.
Anamalai Toyota, dealers of the Japanese car major, on Mettupalayam Road had the same explanation. "We are far ahead than the rest of the car industry and you can find only BS 34 vehicles in our product portfolio"
"About 97,000 commercial vehicles and 40,000 three-wheelers are affected by the Supreme Court ban.
Their manufacturers have felt the heat. But the general trend is that all auto firms tried their best to liquidate their stocks, following the Supreme Court ban "said S.Ganapathy, Deputy Manager of spare parts at Tata Motors Ltd.
Subscribe To Our Newsletter