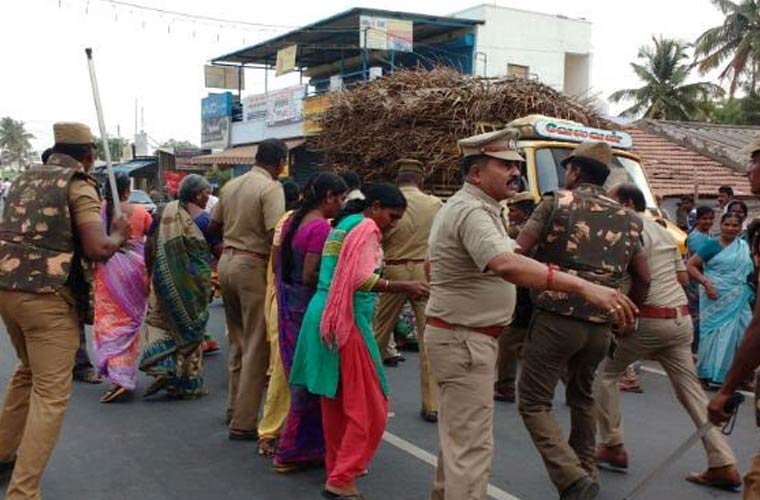 An uneasy calm prevailed today at Samalapuram in nearby Tirupur District after the place witnessed scenes of lathi charge and assault on a woman by a senior police official on Tuesday, as the traders downed their shutters protesting against the action over peaceful agitators seeking to relocate liquor outlet and also dismissal of the officer.
In order to disperse the residents of Samalapuram, police resorted to lathi charge, injuring a few persons and also ADSP Pandiarajan slapping the woman agitator, Easwari, which drew flak from general public and political
parties alike.
The demand for removing Government-run liquor outlet has now shifted to seeking stringent action and dismissal of Pandiarajan for his "unruly" behaviour, as nearly 75 persons, majority of them women, are sitting on a fast.
They also sought the release of 27 persons, who were arrested in the early hours of today, as talks with SP, E S Uma failed. They refused to end their fast.
The residents were also upset over reports that only a few of the arrested were taken to the Court.
Meanwhile, Tamil Nadu BJP president, Tamilisai Soundarajan, visited the place and discussed the issue with the affected women. She is also attending an all party meeting convened to discuss the issue, party sources said.
A senior police official said that the lathi charge and incidents leading to it will be inquired by an official with DIG rank and report will be submitted.
Subscribe To Our Newsletter