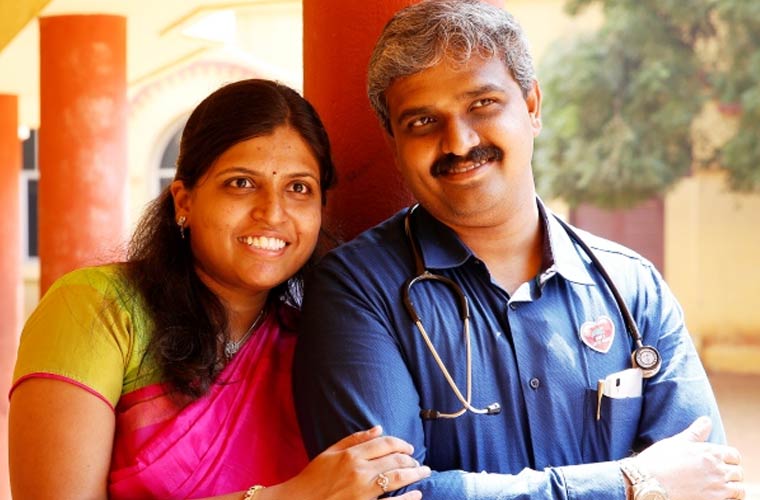 Bengaluru: "Sometimes real superheroes live in the hearts of small children fighting big battles."
These heart surgeons, Gopi Nallaiyan and Hemapriya Natesan, are die-hard believers of this quote. They meet such superheroes almost daily and give meaning to the quote by helping little ones fight their battles.
These doctors stand out in several ways. For, it takes immense courage and strength to follow the heart, resisting a cushy salary and all other comforts the job offers. They did follow only the heart. This saw the founding of the Little Moppet Heart Foundation in 2016 with the sole aim of spreading awareness about congenital heart disease (CHD) and providing free medical and surgical treatment for the under privileged children to let them lead a healthy life.
The figure of 78,000 deaths of infants annually owing to CHD in spite of support and affordable treatment offered by government hospitals is alarming. To add to this is the estimate in an Indian journal that 1.8 lakh children in the country are born with CHD every year.
This disease, identified as a defect in a newborn's heart structure, is widespread and treating this will mean coughing up about Rs 1.5–3 lakh. Cost thus becomes a discouraging factor for many parents. This is where the doctor duo steps in. "Our dream is to provide proper medical care to every child. So that, nothing, not even money, can stop them from growing up healthy and doing great things in life," they say.
The organisation hosts health camps across Tamil Nadu to screen children and identify patients with CHD. They provide free consultation, treatment and counselling for post-surgery care. Based in Tamil Nadu, The Little Moppet Heart Foundation has screened approximately 4,200 students through the government school health screening system and has touched the lives of more than 800 individuals within a span of just five odd months. Dr Gopi has so far successfully performed 15 surgeries, a significant step towards ridding CHD children of their suffering.
Subscribe To Our Newsletter